Enthral started in the summer of 2004 with Randy (Bass) (ex-Knight Eternal), Ernie (Guitar), and Art (Drums) as a thrash metal cover band. In 2005, Ernie quit and joined Knight Eternal on guitar and was replaced by Josh. In 2006 Anthony (ex- Arsenal) joined as lead guitarist/lead vocals. In 2007, Art quit as drummer and was replaced by Erick (from Scarlet Scythe) in 2008. Now a more steady lineup, Enthral released "Lost Crusades" EP in 2007. The band is currently writing new material.
The Metal Den's Randy "Rocket" Cody has conducted
an EXCLUSIVE new interview with Randy of ENTHRAL for TMD's
ever loyal following of DEN HEADZ all across the globe!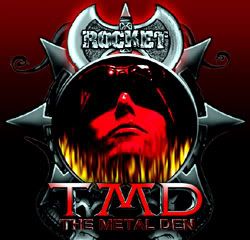 Rocket: Where were you born and raised?
Randy: I was born in raised in South El Monte, CA
Rocket: Do you come from a big family?
Randy: My immediate family is rather small, but I have an extremely large external family.
Rocket: What first drew you to playing music?
Randy: According to my parents, I've been attempting to sing since before I was able to speak although I have no vocal duties in Enthral.
Rocket: When did you first start playing bass guitar?
Randy: I started playing guitar when I was about 13 years old, and 3 years after I was given a Bass and switched over.
Rocket: Who are a few of your biggest playing influences?
Randy: Being that I was a guitarist first, the majority of my influences are guitarists. But strictly on Bass, I would say what directly drew me to want to play the Bass was my neighbor at the time, Geddy Lee, Chris Squire, Stu Hamm, Jaco Pastorius, John Patitucci, Cliff Burton, and the list just goes on.
Rocket: Did you ever taken any lessons?
Randy: Haha, I never took lessons; was completely self taught. I actually gave lessons to plenty of guitarists here in the area.
Rocket: What kinds of basses are you playing live and in the studio?
Randy: For the Lost Crusades EP I used a custom made 6-String Brice Bass (which was eventually stolen). Live I use my Brice replacement (which is also a 6-String), and recently I bought a Yamaha 6-Stringer.
Rocket: What kind of amp rig(s)?
Randy: Let's just say that (live) I use a 6×10 Cab for my amp, and for my rig I use a compressor, noise gate, effects processor, power amp, pre-amp, sonic maximizer, and wireless unit.
Rocket: Briefly, how did Enthral band form together?
Randy: Enthral was formed in the summer of 2004 by me and the drummer at the time. We basically jammed with different guitarists and vocalists until we came across our current line-up.
Rocket: Where can fans pickup your new EP "Lost Crusades"?
Randy: Fans can pick up the Lost Crusades EP digitally on iTunes, Rhapsody, eMusic, Amazon, and physically you can pick it up at any Enthral show. No stores carry it at the moment.
Rocket: With all the new metal albums released in 2008, what are a few of your personal favorites?
Randy: Paradise Lost from Symphony X, De Oppresso Liber from Sothis, The Art of Partying from Municipal Waste, Watershed from Opeth, Twilight of the Thunder God from Amon Amarth, angL from Ihsahn, Delusions from To-Mera, and the list goes on.
Rocket: What are some of the upcoming shows for Enthral?
Randy: We're currently focused on writing material for our upcoming album. We'll be looking into booking shows in 2009.