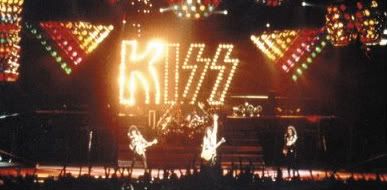 TMD unearths a rare audio clip from 1990 of legendary rock act KISS doing an interview in a New York City rehearsal studio right before the start of the band's infamous "Hot In The Shade" tour. At the start of the clip is Paul Stanley and Gene Simmons trying their hand at some classic songs by THE BEATLES. The first one is "Help!" and the second is "Please Please Me". In the KISS lineup at this point in time was Bruce Kulick on lead guitar and the late great Eric Carr on drums.




THE BEATLES were certainly a major role model for KISS and this interview indeed shows the hottest band in the land has always had a lot of respect and admiration for the Fab Four's incredible musical legacy. While some don't take KISS or their music too seriously (this means you Rock And Roll Hall of Fame), the listener will learn that KISS is not only rooted in the fundamentals of early rock that came before them… but that all of the original KISS songs were written on an acoustic guitar… not electric.

The near seven minute long interview clip also includes Paul doing the opening of the KISS ballad "Forever" and Gene reeling off joke impressions of JUDAS PRIEST's Rob Halford and IRON MAIDEN's Bruce Dickinson.

Listen to the rare audio below!

http://www.kissonline.com/

You should
log in
to submit a review.