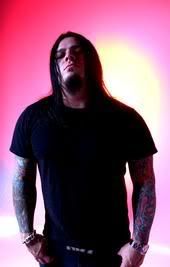 (Interview First Published On 6-6-6)
@www.metalunderground.com)
Jerry Montano of
Danzig
and
Nothingface
is one of the rare metal personalities of today that seems to understand the true scope of metal music and its great history up to this point. He's never been one of those players that gives off one of the typical major rock star attitudes. And what's even more amazing with him being as in demand as he is, he has never played in a band just to try and get rich quick. This is what endears Jerry Montano to the hardcore metalheads like myself in the true underground scene. I have also yet to ever see someone that looks as downright ominous plucking away on the low end as Montano does.
Whether he's played alongside the greats like Danzig or Dimebag Darrell, one thing you know you're always going to get with Jerry Montano is someone that is there because of the pure love they have for the music. I want to sincerely thank him for being even bigger than life by spending time on this interview with me. I don't know what better way to celebrate 6-6-6 and with that, I hold the devil horns high and proud.
Rocket: Let me first say it's total honor to have this opportunity to interview you. I know quite a bit about your background and what it's taken for you to make it in the music business. How does it truly feel for you at this point to have accomplished all these great things you have?
Jerry: You know it feels great to have had the opportunities I've had come my way over the years. It is something I try not to take for granted. It has been very cool thus far… but this is still just the beginning for me. But yeah, it's a long way from bar-backing at Bar Deluxe in Hollywood when it was still dangerous and dirty as all fuck!! And living at the Coal Chamber party house back in the day where it all kinda started. I miss that shit!!
Rocket: Most metal fans know you from your work with the legendary Danzig, but myself and the hardest of the hard metal heads around know you played bass for one of the baddest underground metal acts that ever existed called The Deadlights. I had the great fortune of witnessing this band open for Megadeth at The House of Blues on Hollywood's Sunset Strip back in 2000. It was one of the baddest musical performances I've ever seen. I know you still hear this question all the time probably, but could you briefly explain to everyone what exactly happened with The Deadlights?
Jerry: The Deadlights! Yeah, I remember those shows…Megadeth…MegaDave! Awww, he actually treated us well. Where to start, that goes back a few years. The Deadlights time was exciting for all of us. When I say that I mean for the whole small circle of us friends in the scene. Around that time there was definitely an energy buzzing around Hollywood with ALL of us and our bands. It seemed like every week one of us were scoring a deal. I guess it's kinda like the hair days in that aspect. For our generation anyway. It was normal to go see us play at The Teaszer,The Roxy, Whisky or Troubadour on a weeknight in Hollywood and catch us with bands like System of a Down, Static, Snot, Coal Chamber, Hed pe, or Downset, playing for our friends just like any local bands all over the country. Shit, I can remember a keg party we played one night and it was ALL of the bands I mentioned for like five dollars at some abandoned old hospital in downtown L.A. back in 95-96. I think I was in the band SUFFER then w/ Blasco from Zombie. Anyfuckingway… it was a cool time. Actually it was Shavo from System of a Down who hooked me up with the guys in The Deadlights (then SUCTION) They opened a show for my old band 57 Crown (Mike Savage from Pygmy Love Circus, Jeff Chambers of Danzig, Joey Gold Love/Hate and yours truly) at Mogul's w/ System and tracked me down. I think I turned them down cause they were from OC/Huntington Beach. Eventually. I heard some of what Duke had going on and agreed to come down and meet him and play with the band. The rest is history. I knew the second we wrote and recorded the song Sweet Oblivion that it was gonna happen very fast and that it did…..ended almost as quick. The demise of the band unfortunately was due to a certain member's inability to live without drugs. Poor record sales and a changing of the guard at the label. All in all it was great learning experience. I wouldn't have done shit different. I had a blast. Duke and I are still very close.
Rocket: I can imagine after The Deadlights were done that you had to be looking around going, "What do I do now?", after all the effort that had gone in that direction. How did you ultimately land in Danzig?
Jerry: Good question. I remember I got the phone call after Ozzfest 2000 that we had been "officially" dropped by Elektra… it was a strange time. One minute you're on top of the world, flying all over the country playing shows, getting drunk surrounded by ass and then in a blink of an eye you're at home and the phone stops ringing! Fuck!! It happens! Luckily for me at the time I had a few things lined up…(Nothingface/Gasoline) It all worked out. But at the time it was devastating. I remember I got a fucking J.O.B.!! for a month. Then I got a phone call from an old friend from the past..(Maxwell). I walked outta work and never returned! It was pretty Rock-n-Roll. I think like two weeks later I was on a bus killin it onstage with Nothingface. Good Times. As far as Danzig goes….In '99 we toured a lot with Type O Negative. The guys and I really bonded and became total family. We are really close. Anyway Joey C. had just left Danzig after landing his gig with Queens….And Johnny Kelly took over. I was actually playing in UNIDA (John Garcia ex-KYUSS) at the time. I had been filling in for Scott Reeder for a bit (great guy and amazing bassist). I was out in the desert doing shows w/ UNIDA . Johnny called me up and said "Dude learn the tunes and you're in the band!" After a few conversations with Glenn, I was in. Pretty fuckin cool.

Read The Complete Interview Here:

http://www.metalunderground.com/interviews/details.cfm?newsid=19562