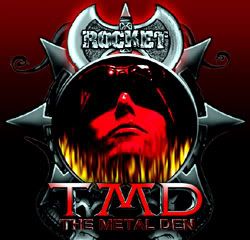 TMD Publicist Service:
This basically involves writing and sending out press releases on behalf of your band to your fans and to media types such as music editors, radio programmers and concert promoters.
A good music publicist is not cheap. You can expect to pay anywhere from $500 to $1,000 per month or more for an "experienced" music publicist. And most of them have campaigns starting at a four-month minimum.
Often it is your band manager who deals with the publicist on a day to day basis.
Hiring a good publicist can help you get to the next level… even before you have landed a manager.
Randy "Rocket" Cody of The Metal Den has contacts at a national & worldwide level and can reach out to them with ease about the artists he represents.
Rocket is underground metal's top journalist!
So what should you expect from a music publicist once you hire them? You should expect someone who is extremely professional, friendly, a skilled writer, and someone who has a wealth of contacts and a track record for landing media coverage.
With either a 3 or 6 month program, "Rocket" will do the following for your band:
Write or edit bio with distinct story representative of the client.
Target all heavy metal media, including: radio, weeklies, dailies, blogs, ezines, freelancers, video and television outlets.
Solicit metal media for show previews, reviews, interviews and airplay.
Target personal contacts throughout worldwide metal media.
Send press releases and kits to media and will continue to follow-up to encourage press coverage.
If releasing album, to send press release and press kits announcing record release party and information about record to targeted media list.
Give feedback on publicity photo and connect with photographer if necessary.
You also get a monthly report that details all of the placements, and you will also be provided online links to coverage or hard copies of articles that have been published.
*Program Pricing :
3 months for $825 ($275/month)
or 6 months for $1,200 ($200/month)
*pricing expires as of May 15th, 2009