Hailing from Chicago's Southland in Kankakee, IL, Redneck Remedy is a four piece Southern Fried metal band that plays for the love of music and sanity. Since the band evolved in 2006, Redneck Remedy has played countless venues in the Chicago Land area, Central Illinois, as well as Northwest & Central Indiana and has proven to be a crowd favorite wherever they go. With great lyrics from songs like "Dig Me A Hole" and "Consequences" to the partying/drinking songs of "Dead & Still Boozin" and "All For Another Day", Redneck Remedy gives the listeners and concert goers a sense of connection with the band and a release from everyday life… not to mention the musical ability of the band as a whole. Early on in 2008, the band set out to record their debut CD which has 14 tracks and is still nearing it's completion. Redneck Remedy plans to go right back to the studio and record their second follow up CD after the release of their first and has already started writing for their third. For now, Redneck Remedy plans to play as many shows as possible in the Midwest as well as across the country to build the Redneck Family fan base known as the "Shotgun Crew".
TMD's "Rocket" has conducted an EXCLUSIVE interview with Big John of REDNECK REMEDY for TMD's ever loyal following of DEN HEADZ all across the globe!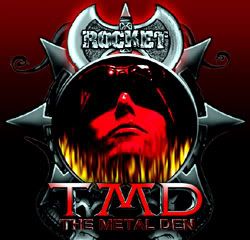 Rocket: Where were you born and raised?
Big John: I was born & raised in Illinois.
Rocket: What first drew you to playing music?
Big John: I was always drawn towards music as a kid. I guess looking back at it now, as a young wipper snapper, I remember going through every record (we're talking vinyl) from my mom & dad… getting bitched at for having the music too loud or the records strung out all over the place. From Outlaw Country like Johnny Cash, Merle Haggard, Waylon Jennings & Willie Nelson to harder stuff of that time like Black Sabbath, Thin Lizzy, AC/DC, Aerosmith, Jimi Hendrix, Fog Hat, ZZ Top. Even old blues records. The list is endless. These were some of my first influences. Great shit & still love it.
Rocket: When exactly did you first start playing the guitar?
Big John: I was about 8 years old. My dad messed around with the guitar for years trying to play here & there. Every once in a while dad had this friend that would stop by & they'd fire up an old Mel Bay 100 watt head with 4-12 cab through a Alverez hollow body electric. I remember that guitar. It was pretty sweet. I wish I still had it. It's the first guitar I played on. Anyway, This is also when I learned my first few chords. Smoke on the Water, Sweet Leaf, Paranoid. I remember it like yesterday.
Rocket: Did you ever take any formal guitar lessons?
Big John: Other than learning a few chords from my dad's friend. I would have to say I am pretty much self taught. I took a few lessons here & there, Studied some scales but mostly learned by ear.
Rocket: Killer. Who are some of your biggest playing influences of past and present?
Big John: Zakk Wylde, Pepper Keenan, Toni Iommi, Pride & Glory, Black Label Society, Corrosion of Conformity, Down, Black Sabbath, Ozzy, Alice in Chains, Godsmack, Bob Seger, T bone Walker, Megadeth, BB King, Iron Maiden, Stevie Ray Vaughan, Billy Gibbons, Slayer, Muddy Waters, STP, Buddy Guy, Eric Clapton, Robert Johnson, Duane Allman, Robin Trower. Jimi Hendrix, Danzig, Led Zepplin, The Who, Lynyrd Skynyrd, Dio, Metallica.

Rocket: What kind of guitars are you playing live and in the studio?
Big John: Gibson Les Paul Custom with EMG pickups, Les Paul Standards, LTD ce1000, (My Beaner) Mexican Strat Customised of course, my Mexican friend named it. I also use Gibson Flying V & Schecter diamond series from time to time.
Rocket: What kind of amp rigs?
Big John: I use a Marshall tls100 triple lead generally. 2 412 Marshall cabs with 75watt greenbacks. A Mesa Boogie Mark IV from time to time (great amp) but hard to find these days so I've kind of retired it. I carry a Laney 100 watt tube head for a back up. Dimebag wah, Electro Harmonix metal Muff, Line 6 delay, boss chorus, shure wireless systems. BBE maximizer (rack), Rocktron hush tube (rack), Korg rack tuner.
Rocket: Killer. How did Redneck Remedy form as a band?
Big John: I put a flyer up in a local record store for a bass player back in 2002. John Mullikin, better known as "Tiny" gave me a call responding to the flyer & came out to jam the very next day. Back in those days we where messing around with all sorts of covers & shit like that. Godsmack, Alice in Chains, STP, BLS ect…. I remember messing around with a few original songs too though. Anyway, things didn't last too long with the drummer & vocalist in that little project but Tiny & I kept hanging out, going out to jam nights in our local pubs & playing in different projects. Then we ended up playing in separate projects but with the same people such as our guitar player Chris Cirullo better known as "Poncho". He's the best guitar player I had ever played along side of. It's a pleasure jamming with him. In 2006, this project fell together from the ashes of the other projects we were all in. After going through one drummer then finding Nick Steel, I think the rest to be quite honest came through the consumption of beer & Jager.
Rocket: Are you guys planning on releasing new material in 2009?
Big John: We are planning to release our first CD self-titled Redneck Remedy. This is the first of many things to come though. We have a lot on the burner so to speak. We have some heavier stuff we are working on as well as some dark acoustic stuff. We just play what we feel & that's what I love about this band. Very versatile.
Rocket: How much of the actual songwriting do you handle?
Big John: Writing is a big hobby of mine. On this CD, I have wrote 12 of the 14 tracks & co-wrote 1 track. Like I said though, we have a lot more material coming. Poncho is a very talented writer as well. I think with the material we have together, this band will just keep evolving.
Rocket: It was another great year for metal in 2008. What are some album releases that have impressed you the most?
Big John: I like to listen to a lot of the underground stuff & bands we've played with. You know, the bands up & coming. I guess I don't really keep up on the releases of some of my favorites. Usually, I'll walk in to my favorite record store here at home Ross's Chicago Records Kankakee, IL) & that's when I'll find out what the scoop is on releases & shit.
Rocket: Who are some of the upcoming metal acts from your local scene that you think are worth mentioning right now?
Big John: Low of the Low
Slow Intentional Damage
Thorn Fetish
None Will Fall
Kaos Rising
7 Year Existence
Jonesful
Stress Fracture
Find them all on MySpace.
Rocket: What are some of the upcoming shows for Redneck Remedy?
Big John: We are doing shows so the best thing to do is check us out @http://www. myspace. com/redneckremedy. All of our shows are available there. We are always adding new shows. We plan to do a Midwest tour hopefully this spring, Texas, Missouri, Kentucky, Tennessee, Indiana & everywhere in between. Then hopefully hit the east coast after that in the summer.
Rocket: Thanks very much for rocking this out with me. Go ahead and give a shout out to your biggest supporters.
Big John: There are so many to thank. Those people know who they are & what they mean to myself & the band we couldn't do it without you but I would like to thank our fans, family, friends, TMD & everyone else I may not be mentioning.