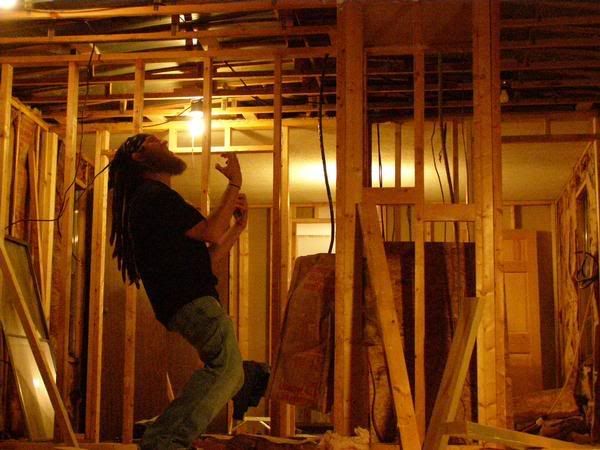 Rocket: Where were you born and raised?
Jarrett: The little old town of Sparta, NC! A bittersweet place snuggled deep in the Northern Mountains of North Carolina.
Rocket: When did you first start singing in bands?
Jarrett: It was the spring of 2000. A friend I played guitar with wanted me to quit playing guitar and sing in a band he wanted to form! I was shocked because the thought had never entered my mind to sing for a band. I asked him why he thought I should take this position. He replied because I know you can sing I've heard you sing in the car! We tried it out, and to my astonishment we had something. We wrote the music together on guitars, I composed a mixture of clean and screaming vocals to it, we formed a band, and went with it for four years. I sang in various bands after that. I've been a singer ever since.
Rocket: That rocks, man. Who are some of your biggest vocal influences?
Jarrett: Robert Plant, Phillip H. Anselmo, Layne Staley, Maynard James Keenen, Tim Williams, Jens Kidman, Brandon Boyd (pre Make Yourself), and Robert Johnson.
Rocket: Did you ever take any formal vocal lessons?
Jarrett: Nope, Never.
Rocket: Briefly, how did Downbreak form initially as a band?
Jarrett: Around mid 1999 to 2000, Gene Rice and Shaun Blanton started the band Downbreak. Unhappy with their lineup, they disbanned. In 2006 Shaun ressurected Downbreak with new drummer Tony Harp who helped form our tight groove. I joined later in November throwing a variation of vocal styles in. We jammed as a three piece for a while to see what we had together and, found out the obvious. This was it. Gene rejoined shortly after that to really bring the guitars to their full potential. Last but not least, Chris Gorglione brought his bass skills to the table. Thus, wrapping up the rest of the team in January of 2007. The new and genuine shape of Downbreak had been formed.
Rocket: Killer. You guys are working on releasing your official debut EP, correct? What can we expect?
Jarrett: Yes, it's been in the works this year. You can expect four very diverse songs that will ensure heaviness, melody, and talent. If you don't like one song, you'll almost assuredly like the other ones. They offer something for everyone's taste of rock. It's heavy sometimes and not so heavy sometimes. It offers an agreeable balance.
Rocket: How does the songwriting work for this band? Is it a team effort or is there one focal person doing that in the group?
Jarrett: When I joined the band we started throwing all our ideas together and we found magic. We all offer ideas of our own and when combined, that's it; It's Downbreak! Gene, Shaun, and I can all play guitar so that's always cool to help on the music side of things. I write all of my own lyrics. Anyone can listen to these songs and relate to them or get something out of them. I like to think of it as a nice dose of medication. It just depends on what you need to hear at the time.
Rocket: I like to have fun with this next one. What's the funniest thing that's ever happened to you while performing on stage?
Jarrett: Well I guess it was when random people kept coming up and smacking my back end when I wasn't looking. It was a very challenging thing to keep performing and try to catch which fans are trying to jump your bones while you're not looking. Then my band decided to join in and just helped them out! Confusing, awkward, but so rock and roll! Or it'd have to be when one of my dreads got caught in the headstock of Shaun's guitar while we we're going crazy!
Rocket: That leads me to my next question, bro. Who are some of the other upcoming metal acts in your local area that have impressed you?
Jarrett: Intethod, Skinkage, Dissent, and Life's Ruin.
Rocket: There's been a ton of new album releases in metal up to this point for the first half of '07. What one album has been your personal favorite so far?
Jarrett: To be determined…
Rocket: So what are some of the upcoming shows for Downbreak?
Jarrett: We look to start destroying again around November/December. With even more ammo than before. Expect the unexpected.
Rocket: Thanks for doing this with me. Best of luck with it all. Give a shoutout to your biggest supporters.
Jarrett: I just want to say we have the greatest fans. They have been there and supported us when we've needed them most. You guys make it all worth it. Seeing all of us be on one page at one time for one moment is indescribable. Thanks to all of the bands that we've done gigs with or worked with. To know we're accepted by such a wide variety of people shows that we'll all get along just fine. Not many bands and fans can connect like that. We're grateful for the response and support from you guys! Anyone I've collaborated with before getting to this point, you know who you are, I owe it all to you guys!
Visit Downbreak on MySpace: