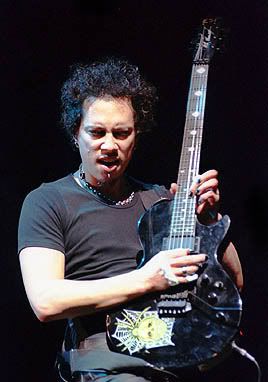 METALLICA's lead guitarist, Kirk Hammett, is reportedly disgusted with the
way famed 82 year old artist Frank Frazetta is being treated by certain members in the Frazetta family, who – get this – are allegedly holding the elderly art legend against his own will in Florida.

Frazetta retained all the original Conan paintings, and long refused to part with them. Many were displayed at the Frazetta Museum in East Stroudsburg, Pennsylvania. In 2009, Frazetta's "Conan the Conqueror" painting was the first to be offered for sale, and was purchased by a private collector for $1 million.

The supposed buyer was none other than Kirk Hammett, better known for being the lead guitar player in heavy metal's biggest band. He is said to have purchased Frazetta's epic "Conan the Conqueror" painting for the hefty million dollar amount. Now Metallica is apparently stepping-up to the plate to support The Frank Frazetta Museum re-opening, Frank Sr. and Frank Jr.'s Freedom, and helping put an end to the insanity.

Word has it that Kirk was willing to shell-out the 50K needed to bail Frank Frazetta Jr. out, after his apparent false arrest in mid December of 2009, which was allegedly engineered by Frank Sr's other son Billy Frazetta and his attorney Gerard Geiger, who are said to have now hi-jacked the entire Frazetta Estate (worth around 100 million dollars) over the past 7 months.




Frazetta is also famous for his art being used for rock album covers, such as Yngwie Malmsteen's War To End All Wars from 2001. His incredible works of art have been used by other top hard rock acts such as Nazareth, Molly Hatchet, and Wolfmother.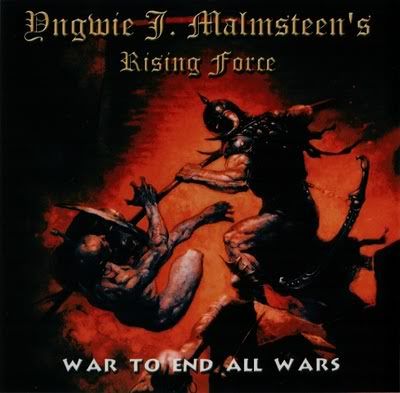 More on the PURPORTED story from Ghost of Ellie (a blog site dedicated to saving and preserving The Frank Frazetta legacy):

Frank & Ellie Frazetta had swore that the Conan paperback book covers would never be sold and would always remain together as a collection, permanently on display in the Frank Frazetta Museum. Privately Frank Frazetta said to numerous witnesses prepared to testify:

"If I agree to sell this painting. Will this FINALLY bring peace to my family?"




Kirk Hammett is said to have shelled out one million dollars for this Frazetta masterpiece shown above, which set a world record and raised the bar on the value and appreciation of 20th century commercial and fantasy art.

At this point, it was hoped by Ellie's Museum staff that the Conan sale would not only placate the 3 salivating children, and Dr. Death but a small portion of the proceeds would also help with the planned expansion of the Museum and this years 10th Anniversary celebration ( 2000-2010 ), but the million dollars in cash was promptly transferred without Frank Frazetta's knowledge or approval into the new back account of a "Frazetta Properties" LLC created as a front for Billy, Heidi and Holly's under-handed activities. Frank and Ellie's personal / business account was also bled dry by these Unholy 3 of 6 figures in cash.

Frank Frazetta got word of Billy Frazetta attempting to actually cash the Metallica Million, and withdraw all of the money in one shot. When the bank refused to hand over the money, Billy proceeded to have a major public meltdown in front of numerous witnesses at the bank. Teller's are prepared to testify to this fact.

Hammet reportedly has shown great concern for possibly contributing to the current circumstances at the Frazetta Museum compound, with his 1 million dollar purchase of a Frank Frazetta masterpiece.

Both Frank Jr. and Kevin were present, along with 3 other Museum staff members, when a valiant attempt was made to prevent any more art thefts by Heidi, Billy, and Holly, ( after they repeatedy changed the locks of the Museum ). Frank Jr. and Kevin ( and crew ) tried to lock Frank Frazetta's masterpiece paintings away in a New York City Museum Art. This dramatic event occured sfter the classic original Frazetta painting "Kane of The Golden Sea" was stolen in November of 2009. And after other repeated art thefts by Billy, Heidi and Holly and the bogus company Frazetta Management continued it's shady dealings.

TMD has been informed that the Frank Frazetta Candle-Light Vigil will be held at the home of Lori & Frank Jr. Frazetta, this Friday evening (March 26), in front of their home, at 7:00pm EST. Which is being organized by a once close friend of Ellie Frazetta.

The vigil will only last 30 minutes to 1 hour long, so please be prompt if you are planning on attending. You may want to show-up by 6:00pm or 6:30pm to meet & greet each other. The hope is that Frank Sr. will be provided safe transport from Florida (where he is being held) to re-claim his Marshalls Creek estate, and protect his namesake, Frank Frazetta Jr.'s name, from any further slander, instigated only by envy & greed.

Please spread the word to anyone you know who may care to attend.

Lori & Frank Frazetta Jr.'s home is located adjacent the Frank Frazetta Home Studio & Museum Estate at Marshall's Creek, PA.

The Estate has sat empty since Frank's disappearance on December 1st, 2009. 3 1/2 months ago.

No one is permitted to access the actual Museum Estate grounds and must stay sole on Lori and Frank Jr.'s property. Which will be indicated upon your arrival. But the Frank Frazetta Museum and it's beautiful grounds and the lake that Frank Sr. made is still visible from their property.

ATTENDING IN PERSON WILL BE FRANK FRAZETTA FAMILY MEMBERS:

Lori Frazetta

Frank Frazetta Jr.

William Frazetta

Frankie Frazetta

Nicole Frazetta

Noelle Frazetta

This is a peacful demonstration of concern and compassion for Frank Frazetta to immediately be permitted to return home to his estate, as he has repeatedly requested on the phone. And so far has been denied. The Media will be invited.

Directions will be posted here shortly. Please stop back by.

Direct contact information will be provided shortly to the Frank Frazetta Candle-Light Vigil event coordinator if needed.

Here is a list of local lodging in the area (the Frazetta's are attempting to get a discount for those who are planning to attend:

Hillside Inn
RR 6,
East Stroudsburg, PA 18301
(570) 223-8238


Paramount Motel
Rt 209 N Rd 2,
East Stroudsburg, PA 18301
(717) 421-2141


Shannon Inn
Pa 447 & US 209 Exit 52 I-80,
East Stroudsburg, PA 18301
(717) 424-1951


Super 8 Motel
340 Greentree Dr,
East Stroudsburg, PA 18301
(717) 424-7411

Thank you for your support and thank you to the Frazetta's for hosting this event for the Fans, Friends and Business associates of Frank & Ellie Frazetta.

Disclaimer – The Ghost of Ellie is not affiliated with either side of the Frazetta Family, nor are we a member of the Frazetta family. Nor do we receive instructions or content from any member of the Frazetta family. Nor are we paid for our contributions here. We are simply concerned citizens, consumers and life-long fans of Frank Frazetta. And it is our opinion that crimes have been committed against Frank Frazetta Sr. and Frank Jr. and his immediate family. We are also not private investigators, reporters or attorneys. So please be advised.


FRANK FRAZETTA BIO
www.metallica.com/