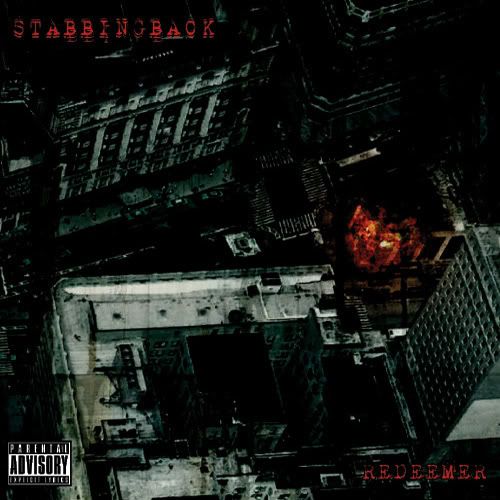 Seattle, Washington's STABBINGBACK has issued an eleven track collection entitled Redeemer, the metal-sounding alternative to their second 'more subdued' 2008 album, Absolution, both of which were simultaneously released on the same day. Guitarist and lead vocalist Gage Sifuentes draws inspiration from a broad palette of elements in the heavy music spectrum to convey an ofttimes intense and brooding lyrical message. Take for example, the opener, "Burn", which sounds like Testament meets Nickelback, featuring an incredibly grooving bass line from Jay Barrett and impressive double-bass kicking work from drummer Ben Gregory tied to the battling twin guitars from mainman Sifuentes and Paul Wolfe, lending to an overall perfectly designed song. You get even more of the same with the other standouts: "Raven", the all-out frantic "Knowing The Truth" and "Apocalypse", my personal favorite on the whole entire disc because it purely delivers and left me wanting to immediately play it again and again. There is even a worthy tribute to fallen Pantera great Dimebag Darrell on "Requiem (For A Dime)". The closing tunes: "The Enemy Within", "Unstable", and "Judgement", while not quite hitting you as squarely in the face as the earlier ass-kickers, still display loads of talent from a rock band that will surely beguile even the most jaded music listener.
ROCKET REVIEW:
STABBINGBACK
"Redeemer" (CD/LP)
(C2M2 Music/2008)
1. Burn
2. Raven 3. Knowing The Truth 4. Apocalyspse
5. Crisis
6. The Funeral
7. Fading To Grey
8. Requiem (For A Dime)
9. The Enemy Within
10. Unstable
11. Judgement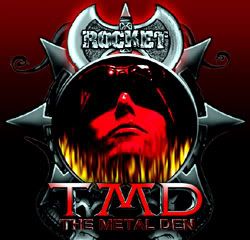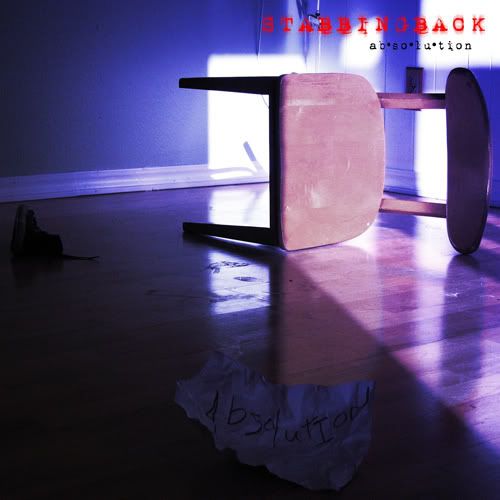 STABBINGBACK
"Absolution" (CD/LP)
(C2M2 Music/2008)
Stabbingback's Absolution features ten easy-listening tracks that are played acoustically. "Perfect Tragedy" and "These Days" come off as tunes of life reflection, seeming to eerily channel Chris Isaak's "Wicked Game", written exactly in the same key of B minor and utilizing the B Dorian modal scale too. All this being said, the music is nicely complimented by singer/guitarist Gage Sifuentes and his soulful vocal work. You'll get much of the same on "Graveyard Hill", "World of Tomorrow" and "Tired", which is the only weakness I found in the material overall, because it starts to sound like your listening to the same song "Perfect Tragedy" that started the album, looping over and over again. Nirvana's "Heart Shaped Box" is obviously where song number eight "Harsh Realites" draws direct influence from and song number nine "No Way Out", while definitely a bit more worked up, sounds more like Nickelback than Nickelback. The closer is the self-titled track "Absolution" and offers a poetically assembled piano piece that seems to be the only truly original sounding tune of the collection. All in all, I would say if you are in one of those moods where life has kicked you in the balls and you just need something to help chill you out, Absolution and a cold beer would be the perfect trick.