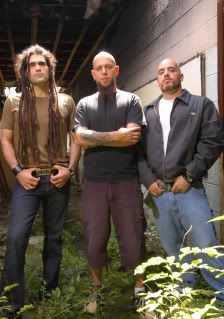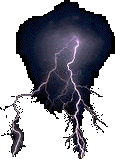 New York, City, New York's very own rough and tumble heavy metal band DRY KILL LOGIC have left a serious impression with the toughest critics in the underground since their debut in 2000.
They have toured the world and back, sharing stages with great names like FEAR FACTORY and DEVILDRIVER and will soon venture out on their very first American headlining stint coming up after some European dates. With their third studio album "Of Vengeance And Violence" (Repossession Records) just making its official release today, I am very excited and beyond honored to have conducted this interview with the band's talented lead vocalist, Cliff Rigano.
Rocket: Can you briefly explain how your former band HINGE morphed into DRY KILL LOGIC?
Cliff: The band has always been the same but due to name ownership issues we had to change it from Hinge to Dry Kill Logic.
Rocket: Where were you born and raised?
Cliff: New York.
Rocket: Now I was sent the new DKL disc that came out today, Sep 19th, entitled 'Of Vengeance and Violence' as an advance media copy days back from your label Repossession Records, so you already know how much I love it. My question is, how do you feel about the way it turned out?
Cliff: I love it – couldn't be happier. It's exactly what we wanted the new record to sound like.
Rocket: Was the recording for this one in any way shape or form more difficult to execute than the other two?
Cliff: Nah, each record has its own inherent ups and downs, but this one was a breeze. The last one was harder than this one.
Rocket: Who is the album's producer and engineer?
Cliff: Eddie Wohl and Phil Arcuri produced it, and Paul Orofino engineered and mixed it.
Rocket: So when did you first get into singing?
Cliff: I was about 19 or so – I had played the drums since I was 14 but sucked, and could sing better than the singers in the band, so it happened pretty much out of necessity.
Rocket: Did you ever take any formal singing lessons?
Cliff: Nah.
Rocket: Who are some of your biggest metal vocal influences? Past or present.
Cliff: I would have to say the biggest would be Phil Anselmo, but guys like James Hetfield, Alice Cooper, Neil from Clutch.
Rocket: Okay, what is it really like to work with Phil Arcuri? Ha! Come on, is he always as funny as we see him in the videos he posts on MySpace? He is very entertaining. But then most bands would die to have someone like that keeping your spirits up on the road, huh?
Cliff: I have known Phil for 10 years and he still cracks me up every day. He's a good dude.
Rocket: What's been your favorite metal album of 2006 so far?
Cliff: I think the best metal record of this year will undoubtedly be DRY KILL LOGIC…haha. I really like the new Lamb of God, and I am psyched to hear the new Killswitch Engage.
Read The Complete Interview Here:
http://www.metalunderground.com/interviews/details.cfm?newsid=21844