Since 2005, Randy "Rocket" Cody's The Metal Den has set a high standard for excellence in heavy music with its yearly "Top 10" list , selecting metal bands based on their overall musical accomplishment in a studio recording. The criteria Rocket and TMD uses to make these selections is based on technical musicianship and the level of interpretive skills involved in singing or playing music on an album.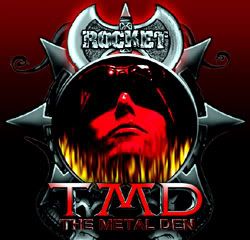 TMD searched far and wide listening to new releases throughout the entire global metal landscape during 2008, in all of the underground scenes, including: U.S.A., United Kingdom, Russia, Croatia, Italy, Egypt, Germany, Poland, Tokyo, and so many countless other great world cities/countries that celebrate a phenomenal love for heavy metal music.
Band's did not have to be signed to a brick-and-mortar record label to make our list.
The 'album theme' and 'song lyrics' also get considered during the tough selection process, helping lend to a more fully rounded-out selection based on all these separately stated criteria.
We salute each and every musician that recorded on each of the following masterpieces in metal.
And the top ten best metal albums of 2008 are…

1. Biomechanical – Cannibalised (Earache Records)
2. Metallica – Death Magnetic (Warner Bros.)
3. Testament – The Formation of Damnation (Nuclear Blast)
4. Gojira – The Way Of All Flesh (Listenable/Prosthetic)
5. The Showdown – Back Breaker (Soild State Records)
6. Ninetail – Half Truths & Hand Grenades (Level Nine Entertainment)
7. Soulfly – Conquer (RoadRunner Records)
8. EkoTren – Light The Fire (Blind Prophecy)
9. Deliver Us From Evil – Behold A Pale Horse (Self-Released)
10.(tie) HateTimesNine – Shadows (Self-released)
Cavalera Conspiracy – Inflikted (Roadrunner)