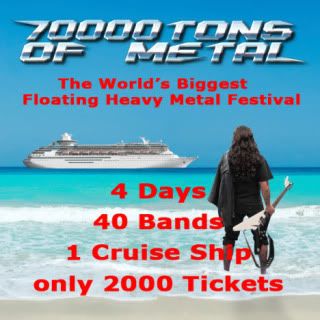 They call themselves SWASHBUCKLE and these musical misfits will bring some real Cruise Ship Terror on board 70000TONS OF METAL, The World's Biggest Floating Heavy Metal Festival!




The confirmed 14 out of 40 bands are:

Amon Amarth
Epica
Finntroll
Moonspell
Obituary
Raven
Saxon
Sodom
Sonata Arctica
Stratovarius
Swashbuckle
Trouble
Uli Jon Roth
Witchburner

70000TONS OF METAL will sail Monday, January 24, 2011 aboard the Royal Caribbean "Majesty of the Seas" from Miami FL to Cozumel, Mexico and will not return you to the real world for four days until Friday, January 28, 2011.

Make no mistake, 70000TONS OF METAL is not your grandma's cruise. It's also not one of the cruises that share the ship with normal cruise guests. This is an all heavy metal cruise! Can you imagine that? A whole luxury cruise ship full of metalheads? And since there is no backstage area you will have the opportunity to mingle side-by-side with the artists in this incredibly fan-friendly scenario that has no comparison. It's like everyone has a backstage pass!

Ticket prices start at US$666 plus US$249 taxes and fees per person and include all on-board entertainment, all meals, non-alcoholic and non-carbonated beverages at the dining rooms, most on-board restaurants and 24 room service!

What are you waiting for? You might even need a vacation from this vacation when all is said and done! Check out http://www.70000tons.com/
for more information and book your cabin NOW!