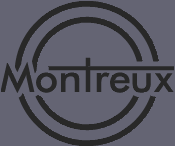 The Vice President of Fernandes Guitars, Japan has recently departed the company to launch his own blazing hot guitar pedal line. The company is called "Montreux". Montreux parts line is the brainchild of Mr. JK. Here are short product descriptions for a couple of their new 'prototype pedals' called The Montreux "CODA" and The Montreux "Knebworth".

Fernandes began in Japan in 1969 by building Flamenco guitars, which later on included an expanded production line that included acoustic guitars, electric guitars, basses, amplifiers and accessories. Fernandes would later grow to become the biggest guitar manufacturer in Japan.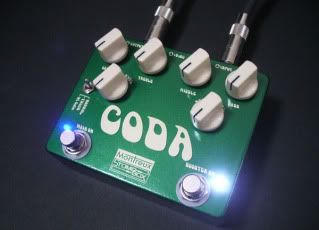 The Montreux "CODA" is the ultimate overdrive/ boost pedal. The left side is simulated TS808 overdrive. You can choose 3 modes with a mini toggle switch. NORMAL mode is original TS808 sound, THICK mode is NORMAL with mid-low frequency (good for Tele) and You can get almost double gain at Hi Gain mode like SRV's TS x 2 setting. The right side is our original design 20db boost. This boost does not affect the overdrive circuit operation in any way, it works in conjunction with the circuit and the boost can also be used when the overdrive is off. If you want reliable gain and maximum vibe, use "CODA"!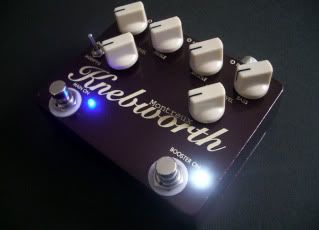 The Montreux "Knebworth" is the ultimate distortion/ boost pedal. The left side is simulated Marshall distortion. You can choose various distortion modes from Plexi to JCM-2000 and change sounds with a mini toggle switch. The normal mode is a EL34 tube style high gain sound and the modified mode is a 6550 tube mode, with different harmonics and a more open sound. The right side is our original design 20db boost. This boost does not affect the distortion circuit operation in any way, it works in conjunction with the circuit and the boost can also be used when the distortion is off. This pedal was designed to be used with cleaner solid state amps like the Roland JC120.Capture the sound of any Marshall easily without any sound compromise. If you want reliable gain and maximum vibe, use "Knebworth"

www.montreuxguitars.com