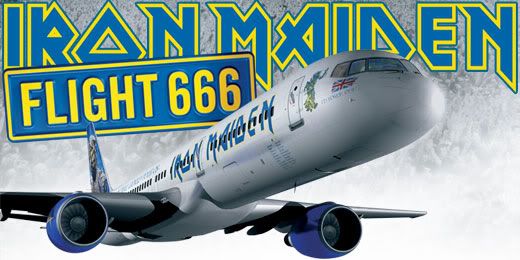 On Tuesday, April 21, 2009 the award winning Film FLIGHT 666 will be screened in over 450 special digital movie theatres in 42 Countries! Advance reviews and phenomenal media and fan reaction from private screenings of the first ever full length feature film from Brit award winners IRON MAIDEN have prompted EMI Records (Ume USA) to rush release the film and soundtrack for home-viewing enjoyment. FLIGHT 666 will be released on extended Blu-ray and DVD formats, alongside a double-CD soundtrack album and limited edition double-vinyl picture disc which will be available Monday 25th May on EMI Records, and Tuesday 9th June on EMI Records Canada and UMe in the USA.

Filmed digitally in Hi Def to provide pristine picture quality, FLIGHT 666 was directed by Sam Dunn and Scot McFadyen with the award-winning Banger Productions team ('Metal; A Headbanger's Story' and 'Global Metal') who take you right inside the Maiden family with almost total access to the band, something which Maiden have never allowed before. The stunning 5.1 soundtrack was specially mixed by Maiden producer Kevin Shirley to complement the picture quality as an ultimate attack on your senses.

'Flight 666' documents the first leg of Maiden's legendary SOMEWHERE BACK IN TIME WORLD TOUR which took them 50,000 miles round the planet playing 23 concerts on five continents in just 45 days. One of the stars of the movie is the band's customised Boeing 757, Ed Force One, which carried the band, all their crew and 12 tons of stage equipment and was piloted by Maiden vocalist Bruce Dickinson, a fully qualified and active Airline Captain with Astraeus Airlines.
Taking you on a visual global tour from Mumbai to Sydney, Tokyo to L.A., Mexico City to Costa Rica, Bogota to Sao Paulo, Buenos Aires and Santiago to New York and Toronto and places in-between, you travel with the band and crew on the plane, to and from shows, in the bar and during leisure time, while experiencing the exhaustion and fan pandemonium that comes with such as mission.
FLIGHT 666 (named after the official airways flight call) reveals how the idea for this unique tour actually came about and how complex planning turned it into a reality. The documentary also contains some of the most spectacular live footage yet seen of the band, filmed in all of those locations and beyond. If you have ever wanted to see the inside story of a truly unique and worldwide tour, taking you to places you never imagined, Maiden fan or not, this is your opportunity.
As a very special bonus for the fans, Maiden have included a second disc of the entire set from the 2008 segment of this tour with the DVD (and as a long-play Blu-ray). Sixteen songs from sixteen different cities in eleven countries around the world, for the first time ever encompassing such varied places and cultures in one concert. (See full track listing below). In addition to a standard double DVD, EMI will release a special souvenir Limited Edition Deluxe DVD with 30 page booklet. The soundtrack audio version of the live show will be available on two CDs, as a limited edition vinyl set with two picture discs, and a digital download especially for those fans who do not have DVD access or just want to enjoy the show as a great live album. All are lavishly packaged as an ultimate memento of a tour to remember! To recognize the global phenomenon of Maiden, the Blu-ray/DVD are also subtitled in Hindi, Japanese, Dutch, German, Spanish, Brazilian, French, Italian, Portuguese and Swedish
Comments band manager Rod Smallwood; "It's been a mammoth undertaking. From the first twinkle in Bruce's eye it's taken about three years to put band, crew and equipment in a giant flying 'splitter bus', to go through all the long and tiresome prep and safety regulations and planning, to the actual filming and of the tour itself, through to post production and right up to putting together all these items in the very best quality possible for our fans."
"It's great that with MAIDEN DAY on Tuesday April 21, we can give our fans the opportunity of seeing this digitally on big screen in Hi Def with the full-on 5.1 sound experience with other fans around them. It was also very rewarding that it has won the prestigious SXSW Film Festival Award for Best Music Documentary."
The 'Somewhere Back in Time Tour' reached almost 2 million fans in 39 countries and, if there is one thing l know from managing Maiden all these years, it's that our fans are not happy to wait too long, so we are delighted that EMI (Ume USA) are rush-releasing the DVD. This closes the chapter on an absolutely brilliant experience delving into the past for the band, myself and my team, the crew and hopefully all of you fans out there. After the summer and some deserved time off, we will concentrate on the 'new' with the band starting to put together material for a brand new studio album due sometime later in 2010. And, of course, after that we will look forward to seeing all our fans again!!"