The number ONE reason bands are not successful today… they simply don't know how to use
PRESS RELEASES to drive their own PUBLICITY!


Essentially, TMD Promo's program is a press-driven marketing system and BOOKING LEADS GENERATOR designed to help grow out a band's fan base via the web and gets you tied to a critical 'genre-specific' music consumer reach via press marketing… in this case worldwide metal consumers, booking agents and record labels that are part of TMD's impressive membership. The overall exposure TMD gets your band for the dollar value cannot be touched.

TMD Promo bands pay to be written up (show announcements, new album alerts, etc…) @ THE METAL DEN.COM and to be promoted via bulletin advertisements @ The Metal Den's webzine on MySpace, (itself enjoying a metal fan readership of 20,000+ worldwide members), along with TMD's Facebook, Twitter and Reverbnation.

How Exactly Is TMD Promotions So Effective?
TMD's unique and innovative unlimited press service for heavy metal bands is designed to get your relatively unknown band plugged into the online buying metal demographic you are trying to hit in the first place, along with other metal media/booking agents using the network to learn about the hottest metal bands on the scene today!
How Much Does The Service Cost?

$199 total for 3 months of service
(includes unlimited band press at TMD's site
during this period)

Now is the time to secure your place on TMD's acclaimed roster!
SUBMIT YOUR BAND FOR CONSIDERATION TODAY!

We accept Pay Pal.
*DEADLINE FOR THIS OFFER is April 1st, 2014.
Metal UP!
TMD Promotions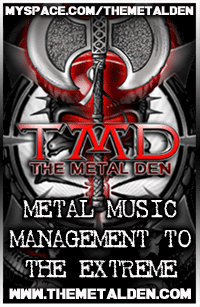 (TMD also offers a full-time "Band Publicist" service and
Band Management contracts!)


Submit your band for consideration to:
All Rights Reserved – TMD Promotions, 2013
You should
log in
to submit a review.