Den Headz, American thrash act LAZARUS A.D. is currently in the studio and Belle City Sound in Racine, WI recording their follow up to The Onslaught. While recording their newest material, the band and Metal Blade Records have launched a contest where fans can create the music video for one of the band's oldest songs, Last Breath. This song was featured on the band's original 3 song demo and was written when all of the guys were still in high school.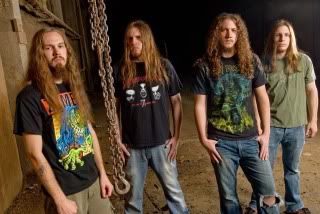 Bassist/vocalist Jeff Paulick comments: "We are so stoked for this contest. "Last Breath" has been a fan favorite since the get go back in '05, and we never got a chance to make the video! We can't wait to see what fans submit, no matter how awesome or ridiculous it may be! We hooked up with ESP for an awesome grand prize, and I think it's a killer concept for the fans. Good luck to all who enter."

There will be three winners: First place receives an ESP LTD MH-103QM STB guitar signed by the band, as well as a t-shirt and a copy of the upcoming new album. Second place receives a custom designed Lazarus A.D. drumhead, a t-shirt and a copy of the upcoming new album. Third place receives a t-shirt and a copy of the upcoming new album. To view all of the contest details, terms and to enter, head to: http://www.metalblade.com/lazarusad

Prospective video directors can download Last Breath HERE.

http://www.espguitars.com/

http://www.myspace.com/lazarus1
You should
log in
to submit a review.