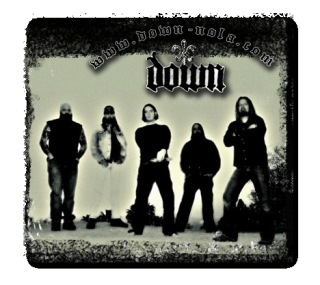 New Orleans, Louisiana (USA) stoner metal unit DOWN has issued the following band update:

"Hey everybody,

It's about time a quick rundown was put out about the status of Down and it's individual members.

First, the good news is Down has tentative plans to meet in New Orleans shortly after the Super Bowl to map out 2010. This includes solidifying plans to record and release a 4th full length album! In the meantime, 4 of the 5 guys are celebrating the Saints' first Super Bowl berth. The 5th guy has to settle for celebrating the Cowboy's first playoff win in a looong time. We'll keep you up to date.

In alphabetical order: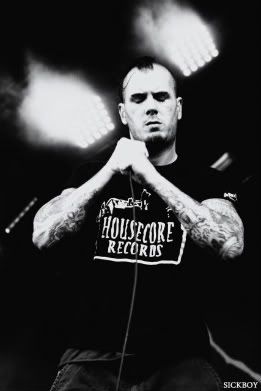 Philip Anselmo: Hard at work with his record label; Housecore records, developing bands such as Warbeast and Evil Army. There are also plans to re-release the Crowbar albums through Housecore! Check out The Housecore Record's website.

Philip has also issued a statement on the Saints:
26-Jan-10
Philip: "On March the Saints"
Unbelievable! We shocked the world! Congrats to our New Orleans Saints, the coaches, the staff, the general manager and the owners!!! Even before this season started, just looking at the roster, I had an insane feeling this year could be THE year! Everyone knows how powerful our offense is, but the defensive side of the ball is underrated!!! Look at the post-season stats!!!

This has been, and will continue to be a season of destiny… there's just too many parallels to count here, but it all adds up: we have arrived! The Mighty NO Saints have cut the heads off two legends (Warner and Farve), now it's time to decapitate the third; one of our own hometown kids, Payton Manning. BRING IT BROTHER!!!!! WE'RE GOING TO THE F-ING SUPER BOWL!!!!!!!!!!!

As for perfection in parallels, I can't think of any other words more suitable than…
ON MARCH THE SAINTS!!!!!!!!"
-Philip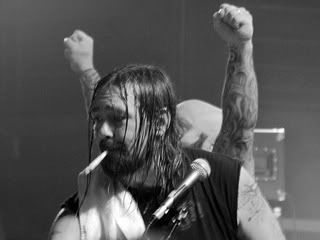 (Photo Credit: Kevin Hickey)

Jimmy Bower: Jimmy toured with his other band EYEHATEGOD through the U.S. on a recent tour that ended in December. They have a show scheduled February 5 in Metairie, Louisiana, and then kick of a tour of Europe for April and May. For more, check out the EYEHATEGOD page.

Rex Brown: There's has been a lot of talk about the surgeries for pancreatitis that kept him off the last Down tour. Rex has issued an update: "After two major surgeries to close out 2009, I have recovered from pancreatitis and am looking forward to getting back to work with Down. I'd like to thank everyone for their support and well wishes during my illness and recovery." Back in November, this photo of Rex sufaced on the net:




It is of Rex in a studio somewhere in Texas with producer Terry Date (Cowboys From Hell, Vulgar Display). Much mystery surrounds this photo because of how recent it is. Hopefully we'll get a scoop soon.




Pepper Keenan: "Pepper is proud to announce that early in the afternoon of January 5th, 2010, he and longtime girlfriend Anna Hrnjak welcomed their baby girl into the world. Flannery Rose Keenan was born a healthy 8 lb. 10 oz. Both Anna & Flannery are doing amazing. COC has no new specific news to report as of yet, but COC is far from over."





Kirk Windstein: Kirk does have some plans to be active in Kingdom Of Sorrow this year which is a band he's in with his good friend Jamey Jasta (Hatebreed). The big deal though surrounds his band Crowbar which will put out re-releases of the back catalogue, a new live album, and a new full length studio album! Kirk also just released this new bio for Crowbar 2010: 1989. That's over 20 long years ago. Countless memories. Some still vivid,most just a blur. The one constant thing has been my focus and desire. The same vision i had in '89 is still burning strong in my head. Possibly stronger than ever. When you put this much blood, sweat and tears into something you can never look back.
Fueled by the down-tuned sludge of the Melvins and the over-the-top aggression of Peter Steele's Carnivore, i set out to create my own beast and Crowbar was born.
The band's sound was labeled Doom-Core by the European press shortly after the debut release of OBEDIENCE THRU SUFFERING. I found it to be quite fitting then and still do honestly.
Crowbar have released 8 full length cd's, the second selling over 100,000 units worldwide. We threw in a live EP and a few compilations for good measure and that's where we stand today.
Anyone who knows Crowbar is familiar with the numerous label and line-up changes over the years. I couldn't be more happy with the group of guys in our current lineup. In terms of musicianship, loyalty and friendship, this is our strongest lineup to date. Period. As I am typing this, we are furiously writing a new full length for you. We will also be re-releasing most of our back catalog and a new live full length thru Housecore records. I've lived a thousand life times over the course of the last 20+ years, but this old dog's got a lot more than you think left in the tank! KIRK 1/28/10
Stay tuned to crowbarmusic…com for more news and new site coming soon!

……and there's the word on the street."

http://www.down-nola.com/