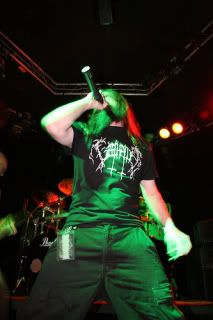 (Photo: David Munoz)



DÅÅTH is an industrial death metal band from Atlanta, Georgia (USA). Formed in 2003, the act played Ozzfest in 2007, ultimately going through a permanent lineup change that saw the departure of keyboardist Mike Kameron, along with original vocalist Sean Farber being replaced by Sean Zatorsky . The band's new studio album "The Concealers" was released on April 21st, 2009 by Century Media Records via a partnership with Roadrunner Records, produced and mixed by Jason Suecof and Mark Lewis (TRIVIUM, ALL THAT REMAINS, DEVILDRIVER), having reportedly sold around 1,300 copies in the United States in its first week of release. The CD also debuted at No. 35 on the Top New Artist Albums chart.

The Metal Den's Randy "Rocket" Cody recently conducted an interview with DÅÅTH vocalist Sean Z for his loyal army of Den Headz worldwide.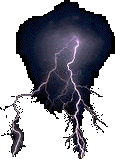 Rocket: Where were you born and raised?

Sean Z: I was born in raised in Ft Lauderdale mother fuckin' Florida.

Rocket: Do you come from a big family?

Sean Z: Pretty big. Two brothers, two sisters and two step sisters… and a fuck load of cousins.

Rocket: What bands first drew you to heavy metal music?

Sean Z: Metallica, Cannibal Corpse , Korn, Obituary and Meshuggah were like my first five CD's .

Rocket: When did you first get into singing and can you tell me who are some of your biggest vocal influences?





Sean Z: About 12 years ago, I started piecing together what would eventually become my screaming technique. Shit, vocal influences are obviously: Phil Anselmo, Chris Barnes, and Corey Taylor.

Rocket: Did you ever take any formal vocal lessons?

Sean Z: Oh, yeah. I took like 4 years of traditional singing lessons… but you know the whole time I was thinking that there had to be something more, so I bought the "Zen of Screaming" DVD's by Melissa Cross. They really are what took me to the next level. I had been practicing those DVD's every fucking day then I actually went to her, and now before I scream, before any show, always I do the ten minute warm up exercise which has helped tremendously. Let's put it this way by the time I get up to scream I'm already ready.

Rocket: How did you get the gig with DÅÅTH?

Sean Z: I have known Daath for quite a long time living in Atlanta. I watched the band grow from a local band and also played shows with Daath in old bands I was in at the time.

Rocket: DÅÅTH just released "The Concealers" album. Jason Suecof produced the album. What's it like working with him?

Sean Z: That dude is fucking amazing . He brought shit out of this band , especially me that I had no idea was in there.

Rocket: Have the new songs been getting a good reaction out at shows, compared to
DÅÅTH's older material?



Sean Z: People fucking love the new shit , but the only song I hear complaints about is that we never play "Ovum", so I think that's on the next set list.

Rocket: What is your favorite DÅÅTH song to perform live and why?

Sean Z: I love "Subterfuge", because I can pretty much windmill and scream that entire song without flinching other than that I love "Sharpen the Blades" and "The Worthless" is my favorite song on the album, so naturally it's my favorite to play live.

Rocket: DÅÅTH's music is said to be influenced by Kabbalah. Is that true?

Sean Z: Maybe the older shit, but with the newer shit we have tried to slowly back off on that.

Rocket: I like to have fun with this next one. What's the most embarrassing thing that's ever happened to you while performing on the stage?

Sean Z: Well, just on this last tour I ate the microphone in the face because I put my foot on the monitor and it gave way and I almost fell off the stage with it, but I didn't and continued without a hitch.

Rocket: What is the one aspect of touring around the world that you enjoy the most?

Sean Z: Seeing all the new places, new faces and really the best part is playing in a new state/country everyday. It is fucking amazing.

Rocket: And the least?

Sean Z: Six other smelly ass mother fuckers.

Rocket: What is your opinion of how 'free downloading' has drastically affected record sales in the 21st century?

Sean Z: It has destroyed it . I'm not sure of the actual figures but a gold record doesn't even take as many records sold to get one any more like I think gold was like 500 thousand, now I think it's like 300k … not exact figures but basically that's what's happening.

Rocket: With all the metal albums released so far in 2009, do you have any personal favorites?

Sean Z: YOB or that new BDM or that new Job For A Cowboy.

Rocket: What's the one piece of advice you'd give to a kid starting out singing in his or her first band and looking to embark on the rock n roll dream?

Sean Z: Get ready to fuck your voice up, but once you figure out the right way to do shit it's amazing. Never give up, no matter what people or teachers or instructors tell you about screaming and how you'll never get any where screaming like that and you'll only fuck your throat up if you continue. I say fuck those people. If you want something bad enough, stick with that shit and fuck everyone who disagrees.

Rocket: Where do you see yourself in ten years from now?

Sean Z: Hopefully playing fucking arenas!

http://www.myspace.com/daath
ROCKET Interviews Sean Z Of DÅÅTH

,