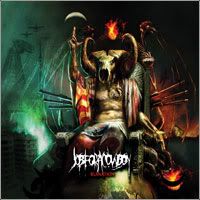 Award-winning Glendale, AZ heavy music powerhouse, Job For A Cowboy, has completed work on its hotly-anticipated sophomore album, entitled Ruination. The record will see a July 7, 2009 North American release date via Metal Blade Records.
The brand new JFAC song, Unfurling a Darkened Gospel, has been posted online and is available to stream now at this location.
The album's cover art and full color booklet have also been made available for viewing at the landing page. The striking, quasi-conceptual motif was designed by Brent Elliott White and takes its inspiration from Job For A Cowboy front man Jonny Davy's album lyrics and concepts. Topics addressed by the album's schema revolve around modern day worldwide dilemmas and controversial issues including "Propaganda in the main stream media and television, humanitarian rights of Northern Korea, the modern genocidal government of Nubia, the use of torture in American military tactics, overruling by world governments and Police states / Martial law".
http://www.myspace.com/jobforacowboy