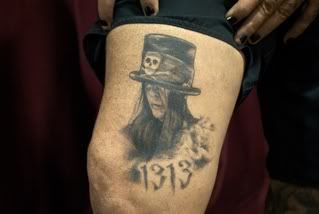 Kat Von D posted the following statement on her MySpace blog:
I hope everyone gets to catch the next new episode of LA Ink THIS THURSDAY..
I'm gonna be tattooing a portrait of Mick Mars on Nikki – and I cant wait to share it with you guys…
At first, when Nikki brought the idea of getting this tattoo done, I thought how cool it would be to celebrate a friendship between two people over three decades!
We decided it would be so rad to do the tattoo without telling Mick, so on the show, you'll be able to see the tattoo process, as well as the entire HIgh Voltage crew rockin it out at Crue Fest in Los Angeles, which to me, was by far one of the greatest shows from the tour – amazing energy!!
I hope you guys love this weeks new episode – it's by far one of my favorites!!!
Lemme know what you think!!"
XOXO,
Kat
Read Rocket's critical CD review of Motley Crue's "Saints Of Los Angeles" HERE.