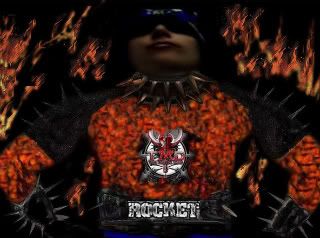 It's been a while since I rocked one of these out, so I figured now
was as good a time as any to recap 2010 and the incredible achievements
that were accomplished this year at the HOTTEST heavy metal news site in the
world: TheMetalDen.com.

TMD's site is on pace for roughly 300,000 total page views in 2010 and 150,000 visitors!

Not one penny has been spent by myself or my partner, Eddie Karam, on any
advertising for TMD's site… so I would definitely say these numbers are
terribly encouraging for a relatively young site that has only been in operation
since 2007. The advertising you see on our site is provided through our new partnership
with Fixion Media and really has been working out great so far.

It's crazy to think how many sites published TMD news this year that had never
before, so I want to thank a few killer peeps who have really helped me
get a wider audience for The Metal Den. Big thanks to Keavin Wiggins over @antimusic,
which feeds TMD news directly to all sorts of metal and rock radio sites all over America,
including KZJK-FM – 104.1 JACK FM Saint Louis Park, MN, WRIF (101.1 FM) in Detroit,
artistdirect.com, and so many more. Thanks to my bro Evil G at metalrules.com for his
continued support, along with Metal Tim over at Bravewords and Bloody Knuckles in Canada,
and man, there's just been so many sites… well over 200 that TMD news appeared on
in 2010… other names like Gibson.com, Crave Online, and Nikki Sixx's "Sixx Sense Radio"…so
for that I am very thankful.





I really want to send thanks out to Bruce Corbitt of RIGOR MORTIS and WARBEAST
for all his killer support of TMD and for helping me land my first interview with
legendary PANTERA/DOWN vocalist Philip H. Anselmo. I want to thank Philip and
Kate Richardson at Housecore Records for honoring me and TMD by publishing the interview
directly on the official DOWN site. I am still speechless over this one… cause honestly, I didn't
think I'd ever score the interview. Needless to say, Anselmo was on fire during our
discussion and truly gave me his best interview of the year… that's just my opinion!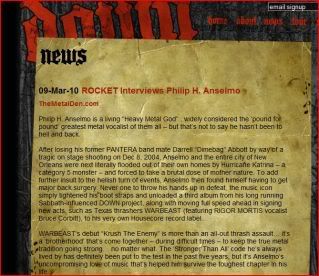 The other incredible interviews this year were with Ex-KISS guitarist Bruce Kulick, Katon of
HIRAX, Jason McMaster of WATCHTOWER/DANGEROUS TOYS fame… Ex-EXODUS
vocalist Steve "Zetro" Souza… LAZARUS A.D., MUTINY WITHIN, Ex-FLATLINE guitarist
Randy Weitzel… just to name a few. Wow! It's been a rocker!!

Special thanks to Earsplit PR, Frontiers Records, Metalblade Records, Red Rocket Entertainment,
60 Cycle Media, Vanity Music Group and anyone else I have left out that helped bring artist
content/press releases to TMD in 2010. These are the folks that are truly unsung in this business…
they ALL do awesome work… and it's been a pleasure to be working together!!

Finally, here at year's end I am hard at work on TMD's Top 10 Heavy Metal Albums of 2010 list, so watch out for that. It will post at TMD's site in later December. Other than that, I plan on pissing
off a lot more people in 2011 than I did this year… because jealousy happens when you're
an outsider like TMD, making a run at becoming the most popular metal news site of them all.
I believe it's gonna happen… the numbers at this early stage put the game in my favor. If I were
the dorks at these other metal sites who hate my game so much… I would be in fear… 'cause
your time as a trendy metal media outlet is coming to an end, trust me! Peeps want the good stuff…
the underground metal music that matters, even old school names like Beowülf, who you will
be hearing from in 2011 with their new album with Ex-SUICIDAL TENDENCIES bassist
Louiche Mayorga. Major thanks to Dale Henderson – and Cyco Mike Muir – for all the inspiration
over the years that helped me get to where I am with TMD today. These lames out
there trashing my moves at TMD straight up wish they grew up in the Venice, California heavy
music scene in the 80's like I did… so they could have gotten a proper education — and that's why most these poser metal sites (You know who you are) continue to promote candy ass radio rock posing as a metal band. TMD works hard daily to promote the coolest new "unsigned" metal talent like Indiana's
DELIVER US FROM EVIL… and kick out the ultimate historical articles on METALLICA, SLAYER, RANDY RHOADS, MOTLEY CRUE, etc…

If I made a few of you mad cause I posted an early demo or bootleg recording to my
readers as something "unearthed" and you already had heard it… oh well. Not everyone
sits on those bootleg sites 24/7… so a lot of the work I do is to try and 'shed light' on
something that the mass audience as a whole would not typically know about. These
articles are a blast to research and write… AND they get a ton of media exposure… so
it's a win/win for most of us at least. The nice messages I get from you readers is the most
rewarding part… so thanks for the good vibes!!

I will conclude this update by thanking my wife, Hope, and all of our immediate family,
who continue to scratch their heads when I tell them I run a heavy metal news site for
a living. Ha! Horns UP, Den Headz… without all of your continued viewership, none
of this would matter. Let's get ready to have a rocking 2011!

http://www.myspace.com/themetalden