The record is due in North America on June 16 via The End Records and Germany on June 12 through Nuclear Blast (the rest of Europe is expected to receive the CD on June 15).
Regarding the album title, VOIVOD drummer Michel "Away" Langevin said, "There were many titles thrown around, but I thought of 'Infini' and everybody liked it. Also, it looks great in sci-fi fonts."
The track listing for the CD is as follows:
01. God Phones
02. From The Cave
03. Earthache
04. Global Warning
05. A Room With A View
06. Destroy After Reading
07. Treasure Chase
08. Krap Radio
09. In Orbit
10. Deathproof
11. Pyramidome
12. Morpheus
13. Volcano
Total running time: 57:57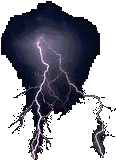 Read Rocket's 2006 CD review of Voivod's "Katorz" HERE.