In an uploaded audio clip to Youtube, an interview with the late QUIET RIOT vocalist Kevin DuBrow details some of the band's early history on the Sunset Strip club scene. Debrow reveals the dirt on Nikki Sixx's inability to play the bass guitar. MÖTLEY CRÜE is in the midst of a huge lip-sync controversy, and recently ousted Crue guitarist Mick Mars claims that Nikki Sixx is fake playing at concerts while relying 100% on pre-recorded tracks.

According to Full In Bloom music, the Dubrow interview audio is from a cassette tape (recorded) interview with the singer shortly before his death. Dubrow delves into the notorious L.A. glam metal scene of the eighties and does not hold back when it comes to explaining how Nikki Sixx could not play the bass.
DuBrow on the band London: "They were just awful, oh God, I mean, nice guy Lizzie Grey, but the worst guitar sound of all time. I remember he could peel wall-paper, it was so treble-y and bad."


DuBrow on Motley Crue: "Nikki (Sixx) stumbled onto a real good thing with Motley Crue image-wise, because Motley Crue started in the image of London, which was very pop, REALLY pop. And then Nikki realized that wasn't going to be the thing that was gonna crack it for them."

DuBrow also talks about how Sixx ripped off Blackie Lawless (W.A.S.P.) and his band Sister who were big on the club scene in those days.


DuBrow on Nikki Sixx auditioning for Quiet Riot: "Remember, Nikki (Sixx) auditioned for Quiet Riot when Kelli (Garni) left in '77. We predated these bands by at least four or five years, long years let me tell you. (laughing)"

DuBrow continues on Sixx when Full In Bloom asks "Was Nikki any good at that time?", Dubrow replies with: "No. He didn't know the names of the notes. Yeah, so Randy (Rhoads) couldn't sit there and teach him how to play bass, and we really liked him as a person, but he just didn't know how to play the instrument. That's not just an insult, it's a fact. I mean, in 1977, he did not know the instrument."

Full In Bloom then asks: "So, he actually sat down and jammed with you guys?", to which DuBrow replied with: "Not really. We said the song is in the key of F, and he (Nikki) said: "Where's F?". So we couldn't get as far as jamming to be honest with you."

Listen to the full interview below courtesy of Full In Bloom.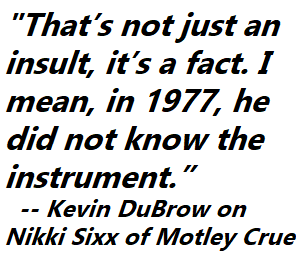 Latest News: MICK MARS Left MÖTLEY CRÜE Due to "Irreconcilable Differences" Because Every Show Was Pre-Recorded https://t.co/Nq19c1788C pic.twitter.com/3JaNk0Ev8H

— Randy Rocket Cody (@rocketmetalden) March 14, 2023
Learn more shocking details via a new episode of Rock And Roll Death Brigade podcast!