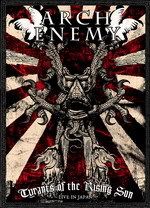 ARCH ENEMY's "Tyrants Of The Rising Sun – Live In Japan" will hit streets on November 24th, 2008 in Europe and November 25th in North America. You can now hear the song "Taking Back My Soul" (the original version appears on 2005's Doomsday Machine album) in its uncompromising live intensity and impressing Andy Sneap mix at (Click here to listen)
Recorded in March of 2008 in Tokyo, Tyrants Of The Rising Sun – Live In Japan is not only a breathtaking live document of the Rise Of The Tyrant touring cycle, but also marks ARCH ENEMY's first internationally available live-album (and second DVD after Live Apocalypse). The main live-set very clearly demonstrates what an enormous amount of quality metal tracks the band has forged during its 7-studio album career and the bonus content includes an in-depth road movie allowing further insights into the ARCH ENEMY-cult phenomenon in Asia, as well as several promo clips.
Vocalist Angela Gossow comments on the live release as follows: "It is a great reward to make studio songs come alive – and they truly take another shape and form on stage! They turn from being a 'rocking tune' into beasts, full of emotions. The songs suddenly have their own heart beat and their blood runs through thousands of people in the audience – making them a crucial part of the music! Singing along, screaming, shouting, crying, cheering – This huge powerful choir we could never summon in a studio recording.
"I am very happy we got the opportunity to capture the beauty and the brutality of ARCH ENEMY live in Japan! Choosing Andy Sneap to mix and master Tyrants of The Rising Sun is the icing on the cake. Now we only have about another 666 countries left we would like to shoot a live video from, haha! Thank you for keeping us alive. Feel the blood, taste the sweat and hear the roar of the Tyrants!"
Tyrants Of The Rising Sun will be available as Deluxe DVD+2CD with special packaging, Standard DVD, Standard 2CD and Ltd. 2LP (with alternate artwork).