In 1992, PANTERA opened for MEGADETH on the "Countdown to Extinction Tour". As the 'alleged' story goes, drummer Nick Menza, spurred on by zany media comments made by MEGADETH's attention seeking leader Dave Mustaine, who felt PANTERA had indeed ripped off his band's sound, went out of his way – backstage at concerts – to tell anyone (who would listen) that Dimebag sucked on guitar and PANTERA vocalist Philip H. Anselmo was full of himself and that he could kick the macho singer's ass in a fight if it came right down to it.




Well, word got around to Philip and Dimebag Darrell about what Menza had 'allegedly' stated, thanks to the now deceased Jill Marie Abbott, a close friend of the PANTERA band (and at one time Philip's actual girlfriend) that Nick Menza was "Talking all this shit about PANTERA". Anselmo and Dimebag immediately went looking for Menza around the venue they were at and eventually cornered him outside near a fence. Anselmo grabbed Menza and said "Why are you talking all this shit about me and Dimebag?", and next furiously threw Menza against the chain-linked fence in preparation of a serious "5 Minutes Alone" ass-kicking he was fully prepared to launch into with the now obviously petrified Menza.

With tears streaming down his face like a frightened little child, Menza cried out to Anselmo: "Please don't kick my ass, man! I am sorry for talking shit and I will never do it again!" — and with that began the birth of Heavy Metal's all-time biggest inside joke: "Megabreth", which essentially stands for a whole lot of hot air coming out of ones mouth and absolutely ZERO to back it up. The end… now go crank some 5 Minutes Alone (below)!!!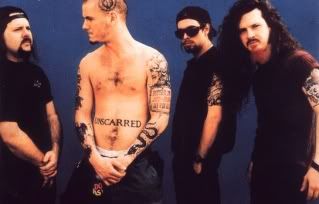 http://www.pantera.com/