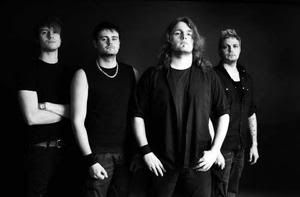 SWORN AMONGST are a fourpiece thrash/speed metal band from Hull UK. SWORN AMONGST, the foursome behind one of 2008's metal debuts And So It Begins, bring you their uncompromisingly fearsome follow-up, Severance.

Driven by the band's unrelenting will to cause general mayhem, Severance brings the best of what was to be found on their previous release and turns up the heat ten-fold.

Having taken part in several European and UK tours, the last eighteen months has seen the band terrorise over 150 venues in almost fifteen countries. It's these experiences that have seen Sworn Amongst evolve, and ultimately, allow them to forge their brutal new approach.

Initially performing outside of their comfort zone, it's taken over six months of feverish writing and recording for the band to fulfill the goals they set themselves at the very start of '09. Goals which they feel have been met in devastating fashion.

Severance will be hitting the shelves WORLDWIDE in February 2010, with the band departing on what is sure to be their most intense touring schedule to date. Go HERE to listen to the album in its entirety.