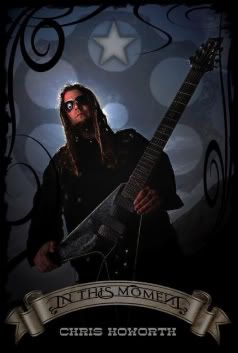 American melodic metal act IN THIS MOMENT was founded in 2005 by vocalist Maria Brink and guitarist Chris Howorth. Once their full lineup was in place with bassist Jesse Landry, Blake Bunzel on guitar
and drummer Jeff Fabb, they next released their debut album Beautiful Tragedy on March 20, 2007. The smash success of the record landed ITM on several high profile tours, including The Hottest Chicks in Metal Tour 2007 with LACUNA COIL and OZZFEST in the summers of 2007 and 2008, along with support stints for MEGADETH and ROB ZOMBIE. Managed by OZZY's bassist Blasko, ITM has undoubtedly established themselves as one of the hottest new heavy music acts on the planet.

The band is now set to release the highly anticipated follow-up to their debut entitled A Star-Crossed Wasteland, which is slated to hit the U.S on July 13, 2010 via Century Media. The album has been named by Alternative Press as one of the most anticipated releases of 2010.

The Metal Den's Randy "Rocket" Cody has conducted an exclusive interview with IN THIS MOMENT guitarist Chris Howorth for his loyal worldwide Den Headz.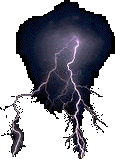 Rocket: Where were you born and raised?

Chris: Topeka, Kansas, the heartland!

Rocket: Do you come from a big family?

Chris: No, not really, it was just me and my sis and mom and dad growing up, but I have a very supportive family.

Rocket: What bands first drew you to heavy metal music?

Chris: Well, definitely Kiss, and all that 80's metal and thrash are what got me up and playing air guitar in the mirror, bands like Ozzy, Metallica, Ratt and Motley Crue.

Rocket: Do you recall your first heavy metal concert?

Chris: Hell yes I do, it was Kiss and King Cobra in Salina, Kansas, my parents took me, we were all blown away by the Kiss show, even my parents couldn't deny that it was a very entertaining show.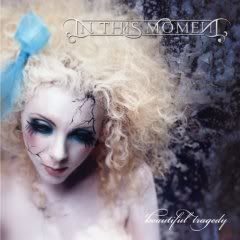 Rocket: When exactly did you first start playing the guitar?

Chris: I think when I was 14 or 15 I decided "I want to be in a band and I am playing guitar".

Rocket: Did you ever take any formal lessons?

Chris: Yes, I went to the local guitar shops in Topeka KS and tried learning theory and all that jazz from the guys that worked there, but eventually found a local guy who could teach me stuff I wanted to learn, like a specific riff or solo from a song I liked. I had a natural talent for learning by ear so once I learned power chords I was off and running.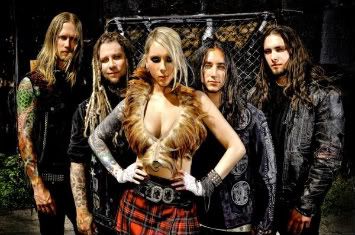 Rocket: Let's talk about the new IN THIS MOMENT album, A Star-Crossed Wasteland. What can you tell us about the new material?

Chris: We are super excited for the new CD to come out.We went in a much heavier direction on this album. We feel it's our defining album. Just the right mix of aggression and melody.

Rocket: Who produced it and where was it recorded?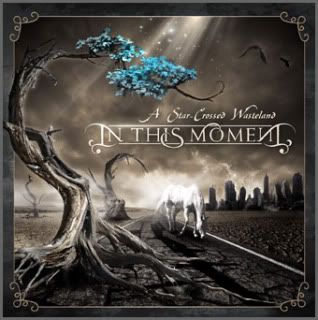 Chris: It was produced by Kevin Churko (Ozzy Osbourne, Five Finger Death Punch) and recorded at his home studio in Las Vegas, Nevada. We recorded our last album with him too. He is a great producer and a great guy. We are really happy with how it all turned out.

Rocket: How exactly does the songwriting process work for ITM?

Chris: Well, we are a bi-coastal band so it involves a lot of demos getting sent back and forth. I wrote a bunch of songs and sent them to Maria and she and I fleshed out the initial arrangements and then once we got into the studio we took each song apart and reassembled them with Kevin's help then everyone adds their own magic to the tracks and it becomes In This Moment.

Rocket: What kind of guitars are you currently using in the studio?

Chris – I am endorsed by Schecter guitars, but in the studio we use anything and everything, I did actually track most of the rhythm guitars on my Schecter Hellraiser, but we used a Les Paul, a Fender Strat, and some other assorted guitars for the album as a whole.

Rocket: What kind of amp rigs?

Chris: I am endorsed by Krank Amps, and I love them, but for the album we are open to trying anything, and we basically get a few different amps and amp combo's going and then pick what sounds best. We used one of the new EVH heads mixed with a dual rectifier for the album.

Rocket: ITM will be playing this year's Rockstar Mayhem Tour on the Mayhem Festival Stage starting July 10. Who are some of the bands you'll be excited to checkout?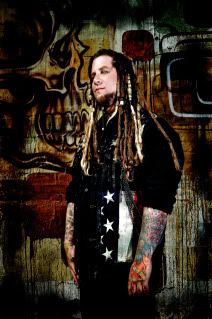 Chris: I am excited to see Lamb of God and Rob Zombie, and I am just excited to meet new people and hang out for a couple of months!

Rocket: Your band's manager is actually Ozzy's bassist, Rob "Blasko" Nicholson. How has that relationship been working out so far?

Chris: Blasko is like our sixth member, he has been guiding and helping us since we started, he always has our best interest at heart and doesn't take shit from anyone. It's been a very satisfying relationship so far.

Rocket: I like to have fun with this next one. What's the funniest thing that's happened to you while performing live on stage?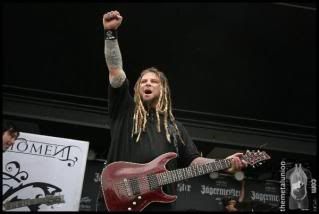 Chris: Well it doesn't seem funny at the time, but I have blown some key parts live, coming out on stage in an arena playing the wrong song and not realizing till halfway through… that's pretty bad.

Rocket: With all the great metal albums released in 2010 so far, what are some of your favorites?

Chris: I am not really up on any other bands that have released stuff this year but the new Ozzy album is slamming and it comes out this month sometime!

Rocket: What's the one piece of advice you'd give to a kid starting out with a guitar and
the Rock N Roll dream?

Chris: The best advice I can give is to believe in yourself, practice constantly, and never give up….that's the biggest. Giving up is the quickest way to not achieve anything.

Rocket: Where do you see yourself in ten years from now, brother?

Chris: That's really tough because I try to just live in the moment, life is what happens while you are worrying about the future, I guess I see myself making music and feeling happy.

Rocket: Thanks very much for rocking out this interview. Best of luck with it your music. Go ahead and give a shout-out to your biggest supporters.

Chris: Thanks a lot for the interview, Rocket! Any ITM fans out there… come see us on Mayhem!

http://www.myspace.com/inthismoment