INSTINCT OF AGGRESSION was founded at the start of 2005 in Los Angeles, California. With a clear cut mission from the outset, to dominate the world with their heavy brand of metal. Led by a live wire lead vocalist named Carl Bensley, the band picks up where most young group's end: bringing a no-holds-barred, take-no-prisoners style of music to the now dead SoCal metal scene. No gimmicks, no makeup – just five intoxicated guys who live to play music as driving, energetic and intense as possible. After working with Mikey Doling, of Snot/Soulfly/Invitro, and Brad Dujmovic, IOA has unleashed a totally fresh, distinct sound that doesn't cater to any single sub-genre but still pays direct homage to all of them. They just keep it brutally poignant and totally real.
THE METAL DEN's Randy "Rocket" Cody has conducted an exclusive new interview with Carl Bensley for TMD's loyal and devoted following of DEN HEADZ worldwide!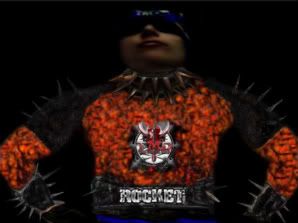 Rocket: Where were you born and raised?
Carl: I was born in Binghamton, NY and raised in Owego, NY. Big up to the 607!
Rocket: Do you come from a big family?
Carl: My mom's side of the family was kinda big. I'm the youngest of three children. I have an older brother and sister.
Rocket: What first drew you to being a vocalist?
Carl: I actually started playing the trumpet when I was really young. Then I played guitar and bass in bands back in New York til I moved to Los Angeles in 2003. I started more because I thought I would make a good frontman. I think I've done my homework and learned from the best and the stage show will damn sure prove that!
Rocket: Did you ever take any formal vocal lessons?
Carl: I did chorus which was lame when I was young. I also did some barbershop harmony when I was young. I've also done personal lessons with teacher Dot Todman who is absolutely amazing. To all singers, take vocal lessons! It will change your outlook and method to your madness.
Rocket: Who are some of your biggest vocal influences of past or present?
Carl: It's actually a trip. I tell Mikey and Tommy Vext all the time (especially when I'm drunk!!). I really was never into singers that much then I heard The Box by Snot. I looked my brother and told him "I wanna scream like that guy" talking about Lynn Strait. Funny how things happen in life. Anyway, I'm a huge jazz-head. I love the ladies of jazz. Ella Fitzgerald especially. Gives me chills everytime I hear her. Such emotion. Billy Holliday and Etta James. Amazing. I can't leave out Marilyn Manson. Antichrist Superstar changed my life.
Rocket: When will you guys be putting out a new full-length?
Carl: We actually finished our debut in 2008 right before we left on tour with Devil Driver and Snot. It's titled "Beyond All Control" and it's basically a recording that we did over about 3 years. It was only available at our shows but we're getting ready to release it on itunes in the next couple weeks. We just got out of the studio with 3 new tracks that are killer. We're really proud of these ones. We're currently writing new songs in the meantime.
Rocket: How has it been working with such a rock hero as Mikey Doling?
Carl: Mikey is amazing. One, he's just the nicest, coolest person you will ever meet. I'm honored to be working with him. He's fantastic in the studio as well. He takes what you come in with and makes it into a monster. We actually come out of the studio heavier, which isn't something you find with many producers. Other producers like to water the song down and sugar-coat it. I'm extremely happy if you can't tell. Hahaha!!!
Rocket: With all the great metal releases that have come out so far in 2009, what's been your favorite album this year?
Carl: The new Lamb Of God. Insane of course. I also really wanna check out the new Cannibal Corpse. I'm really looking forward to the new Suicide Silence album. I'm interested to see where Machine (producer) takes them. Also the new Devil Driver I hear is supposed to be amazing. I can't wait. Should be a great summer for metal!
Rocket: Who are some of the local un-signed metal acts on your scene that you think are worth mentioning right now?
Carl: We've done a lot of shows with our boys in Jameson. Epic fucking metal. I'm a big fan of Corrupt Defile. They're so heavy its unbelievable. Death Pilot is friggin killer and they're hittin the road hard and slaying crowds. And I can't forget about our boys to the north Armed For Apocalypse. Totally doomy and heavy as hell. We're looking forward to hittin the road with Corrupt and Armed.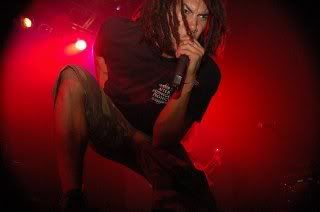 Rocket: I like to have fun with this next one. What's the funniest thing that's ever happened to you while performing live on stage?
Carl: Not a lot of funny stuff. More disasterous. Hahaha!! I've had my teeth put through my lower lip by my guitarist's headstock. One thing I thought was funny though (which the crowd didn't like so much) happened on one night years ago. We played a show with the mighty Suffocation. It was totally their crowd. We put on a killer show but the crowd was tough. I was drunk and I asked the crowd "who are you here to see?" Of course the crowd said "Suffocation" My drunken sarcastic response to them was "Suffocation? Suffocation who?" Hahaha. Needless to say the people were not pleased. But I made up for it and eventually won them over. Sorry Suffocation. You guys rule!!!
Rocket: Where do you see yourself in ten years?
Carl: Rocket, I hope in the next 10 years we're touring the goddamn world. That's all I want to do. Music is what I live for. There are other musical ventures in the future, but not for a long, long time. So fuckin get ready!
Rocket: What's the next upcoming show for IOA?
Carl: Big show at a great venue. We're headlining May 18th at the Roxy on the legendary sunset strip in Hollywood. We're excited. Corrupt Defile and Jameson will also be on the bill. After that we're lookin to hit the road as hard as we can this summer and fall.
Rocket: Thanks very much for rocking this out with me. Best of luck with it all! Go ahead and give a shout-out to your biggest supporters.
Carl: Thank you so much, brother! Big up to Mikey, Nic Adler, Cocaine Energy drink, Death Dealer clothing, Snot, Devil Driver, Straight Line Stitch, Jameson, Corrupt Defile, everyone in LA and back in New York. 607 bitches
http://www.myspace.com/instinctofaggression