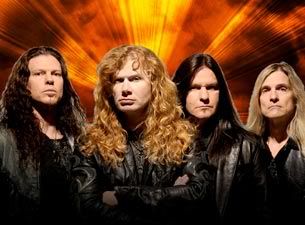 Droogie "Mongo" has the 411 on last night's gig (Sat, Nov 28th) at House of Blues in Myrtle beach, South Carolina:

"It was mine and my wife's first time seeing a show at the House of Blues as well as our first Megadeth show, and we were definitely NOT disappointed! We got to meet the guys before the show, got autographs and pictures with them, and left extremely impressed with how genuinely nice they all were. Especially Dave, for letting my wife try to take our picture together a second time after it messed up the first!

Arcanium opened the show, and while we missed the first 15 minutes or so of their set due to us doing the meet & greet, what we did catch of them was really good. We had never heard of them before, but enjoyed them enough that we are going to start looking into more about them.

Suicide Slience played next. The general response towards them was not that great, with many people taking their time on stage as an opportunity to step out back for a smoke. Statements such as "Those guys suck" and "Hopefully they'll be done soon so Machine Head can get up there" were pretty common to hear (yes, we were out back as well). What I did catch of them didn't sound all that bad, but just not my cup of tea.




Machine Head. Just. Plain. Rocked. They sounded really great, and their lead singer is an awesome stage performer. There was a kid in the front row, I'm guessing about 8 years old, and the singer brought him up onto the stage! This kid got to hold and play the singer's guitar, throw drum sticks into the crowd, stage dive, and then crowd surf around the room. And to top it off, the drummer gave him one of his sticks. Everyone was cheering as much for the kid as they were for the band. And did I mention they sounded great? Absolutely the best band of the night so far. Gonna go searching for some of their albums on Amazon to pick up.

And then there was one. Megadeth hit the stage and the crowd erupted as if it was the second coming of Christ himself. Dave and the boys played a no nonsense set with a minimum of talking, which he did talk about (ironic?), and absolutely blew the roof off the joint. It was so great singing word for word with him to all those songs I grew up with, and seeing them live was one of the experiences I have wanted to check off my bucket list since the 80's when they first started up. They sounded incredible, but Dave's mic was a bit too soft compared to the music, making it a little difficult to make out his words, but all in all, a show that did not disappoint. Would I watch it again tomorrow night? Dave, call me and let me know what time to show up! And to top it all off, that kid got one of Dave's guitar picks AND another drum stick! I'd like to see his friends at school compare stories about what they did over Thanksgiving break on Monday!

I hope everyone that was able to attend enjoyed themselves as much as we did. After seeing AC/DC just last month in a much larger setting, seeing Megadeth in the smaller venue was just as good of an experience. If you missed this show, you missed out on something special."

http://www.megadeth.com/

http://www.machinehead1.com/