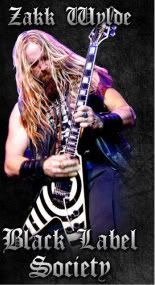 Den Headz, it looks like former OZZY OSBOURNE guitar maniac ZAKK WYLDE has traded in the bottle for a new vice in life. No, not Justin Bieber music.

This time around… the big fella seems to have turned into an absolute raging (gasp)

"Tweet-a-holic".

Zakk's other band (you know the one that got him kicked out of Ozzy) is BLACK LABEL SOCIETY and the burly axe man now seems to be over-using Twitter as his sole means of addressing his biker garbed "Berzerker" army that remain vigilant for the return of the Fonzie of heavy metal music.

"WE LIVE FOR NEGATIVITY!!!!!WE NEED SOMETHING TO EAT N DESTROY!!!!! PRAY FOR WAR!!!! ….THE ORDER"

– Zakk Wylde, Twitter (June 26, 5:45 PM)

Not exactly Shakespeare, but then again what do you expect to spill from the mind of metal's craziest six string assassin? Poetry?

With Zakk, the manners go straight out the window and you're gonna get hit over the head with the kitchen sink… whether you're ready for it or not.

"Eric fuck the Divorce Lawyer!!!! Give her half the $ the House n move on… Then ya gotta give some scumbag a ton of your $$ fuck that!!!!!"

– Zakk Wylde, Twitter (June 24, 12:37 PM)

As of the writing of this article, Wylde has tweeted 3,439 times on Twitter, the latest
social networking phenomena to take over the lives of perfectly innocent people…

Innocent people like Zakk Wylde.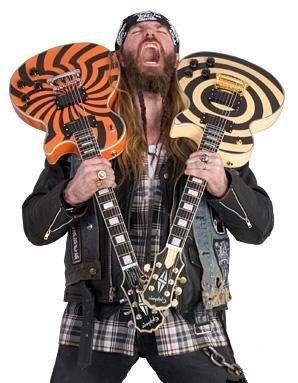 "Hittin The Doom Crew Iron Dungeon then Cardio for my Girlishish 235 LBS figure…Size 2 dress here I come!!!!!!!"

– Zakk Wylde, Twitter (June 26, 12:37 PM)

Wait. Let's back that up. 3,349 tweets? Really?

Yup, that's a whole lotta WYLDE going on… and then some! What else does the world famous guitarist talk about in his tweets? Try these other chicken nuggets of wisdom on for heavy metal size:

"Dave when I roll out of bed I feel like I'm 95!!!!!! Takes a little while to get going like starting your car in the cold."

– Zakk Wylde, Twitter (June 28, 11:00 AM)

"Not only will I be running n singing n playing guitar between my Labia.. I'm makin omlettes n doin the audience's laundry as well"

– Zakk Wylde, Twitter (June 24, 12:37 PM)

"Porn will NEVER acuse you of Rape… Mind you your Schlong may charge you w/ASSAULT!!!!!"

– Zakk Wylde, Twitter (June 23, 2:44 PM)

As crazy as his electric guitar playing is, ole bearded one breaks off Twitter prose with even more reckless abandon, don't you agree?

At the very least – on any given day – you can walk away with a solid slab of Zakk Wylde information-overload:

"Joe the Boots I wear r Miner boots …. Made by a company in San Fran… WESCO… Awesome Boots!"

– Zakk Wylde, Twitter (June 1, 4:34 AM)

"They found a condom in LT's room… Gonna do DNA … if his shit is on it….not good"

– Zakk Wylde, Twitter (May 13, 10:24 PM)

Let's hope BLACK LABEL SOCIETY's next studio album "Order of The Black" has more going for it than his Dr. Phil meets Harley Davidson and The Marlboro Man advice column… or we're all gonna be screwed.

http://www.blacklabelsociety.com/