The Neurot Recordings family is pleased to welcome the audio devastation that is Portland's STONEBURNER to their expanding roster of forward-thinking music.

Featuring four members with a compelling musical ancestry that winds through Buried At Sea, Buried Blood, Heathen Shrine and more, STONEBURNER — named after a subterranean weapon from the novel Dune — spews forth a groin-churning orchestration of crust-strewn, hypnotic, sludge metal, their torrid odes glazed with pain and distress. The band will unleash the follow-up to their 2012 debut full-length, Sickness Will Pass, which The Sludgelord fittingly crowned, "an ugly, visceral and truly terrifying beast of an album," via Neurot Recordings this Spring. Titled Life Drawing, the offering promises to take their sonic crush to entirely new levels of heaviness.

Notes the STONEBURNER collective on their union with Neurot: "We've been working on the material for this album for a long time now and couldn't feel better about how it's come together. We're humbled and honored that Neurot have asked to be involved. Since the band formed, we've always done our best to work with people we respect and know personally, signing to Neurot is an extension of that…another step in combining our personal and musical lives and bringing it all full circle."

STONEBURNER was spawned in early 2008 though the bands' familial roots reach back two decades. To describe STONEBURNER's music one need only look to the list of bands with whom they've shared the stage: Yob, Sleep, Eyehategod, Neurosis, Buzzov-en, Weedeater, Saint Vitus, Watain, Tragedy, Noothgrush, Graves At Sea, Lord Dying, Drop Dead, Whitehorse, Wind Hand, Bastard Noise and so on. For STONEBURNER, it's all about domination through amplification and soul-cleansing catharsis.

STONEBURNER personnel:

Elijah Boland – guitar

Jason Depew – guitar

Damon Kelly – bass/vocals

Jesse McKinnon drums/vocals

Further STONEBURNER intel, including Life Drawing release date and track listing, to be announced in the coming weeks.

https://www.facebook.com/Stoneburner.PDX



CATTLE DECAPITATION is currently at work on a new album, however that won't stop them from playing a few gigs in 2014. The band have been announced as support to EYEHATEGOD on the following West Coast stops:

01/09 San Diego, CA – TBA
01/10 Las Vegas, NV – The Cheyenne Saloon
01/11 Phoenix, AZ – Joe's Grotto
01/12 Los Angeles, CA – Los Globos

Source: The PRP

http://www.metalblade.com/cattledecapitation/



Greek thrashers SUICIDAL ANGELS have released a lyric video for the new track "Marching Over Blood." The song is taken from the upcoming new album "Divide & Conquer," which drops on January 10th (EU) and January 14th (North America) via NoiseArt Records.

The album marks the first studio release for new guitarist Chris Tsitsis, who replaced the outgoing Panos Spanos, who left in 2012, as well as new bassist Aggelos Lelikakis.

The track list for "Divide & Conquer" is:

1. Marching Over Blood
2. Seed Of Evil
3. Divide And Conquer
4. Control The Twisted Mind
5. In The Grave
6. Terror Is My Scream
7. Pit Of Snakes
8. Kneel To The Gun
9. Lost Dignity
10. White Wizard

Check out "Marching Over Blood" HERE.

Source: Metalunderground

https://www.facebook.com/SuicidalAngels


In honor of their upcoming combo assault with hardcore thrash miscreants, Iron Reagan, EXHUMED expel a new canticle of chaos in the form of "Gravewalker."

Comments Matt Harvey, minister of diseased death rattles and obscene elegies, "In between our seemingly endless road schedule and recording a new album, we managed to squeak in some time to barf up a couple new tracks and cover songs for this split with our tight buds in Iron Reagan. They're a bit more stripped-down and nasty than the last album [Necrocracy], which was a lot of fun for us. This EP is all about cutting loose and getting down and dirty. We hope you'll join us in the grime and turn out for our week of shows with the Reagans just in time to have one last rager before you spend the holidays with your creepy drunk aunt who keeps touching your face at the table – you know the one I mean! See you mutants on the road!" Get gruesome with "Gravewalker" at THIS LOCATION.

The upcoming vinyl-only split boasts a total of eight banging tracks of highspeed fuckcrush, two of which find EXHUMED delivering face-raping covers of Minor Threat's "Seeing Red" and Negative Approach's "Ready To Fight."

In related news, EXHUMED will unite with Iron Reagan tomorrow for a short run of live abrasions set to kick off in Las Vegas. See full listing of activities below:


EXHUMED w/ Iron Reagan:
12/08/2013 Cheyenne Saloon – Las Vegas, NV
12/09/2013 The Metro – Oakland, CA
12/10/2013 The Casbah – San Diego, CA
12/11/2013 Chain Reaction – Anaheim, CA
12/12/2013 Rocky Point – Tempe, AZ
12/14/2013 Gothic Theater – Denver, CO


The EXHUMED/IRON REAGAN split 12″will be unleashed via Tankcrimes on January 7, 2014. Pre-order your copy TODAY at THIS LOCATION and get a digital download of the album emailed to you on December 16th just in time to stuff your stockings.

http://www.facebook.com/ExhumedOfficial


"Taking Metal Bands To The NEXT LEVEL!"

This basically involves writing and sending out press releases on behalf of your band to your fans and to media types such as music editors, record labels, radio programmers and concert promoters.




A good music publicist is not cheap. You can expect to pay anywhere from $2,000 to $4,000 per month or more for an "experienced" music publicist… and most of them have campaigns starting at a four-month minimum.

Often it is your band manager who deals with the publicist on a day to day basis.
Hiring a good publicist can help you get to the next level… even before you have landed a manager.




Randy "Rocket" Cody of The Metal Den has contacts at a national & worldwide level and can reach out to them with ease about the artists he represents. He is one of the most widely known and respected heavy metal journalists working today.





So what should you expect from a music publicist once you hire them? You should expect someone who is extremely professional, friendly, a skilled writer, and someone who has a wealth of contacts and a track record for landing media coverage.

"Rocket" will do the following for your band:

Write or edit bio with distinct story representative of the client.

Target all heavy metal media, including: radio, weeklies, dailies, blogs, ezines, freelancers, video and television outlets.

Solicit metal media for show previews, reviews, interviews and airplay.

Target personal contacts throughout worldwide metal media.
Send press releases and kits to media and will continue to follow-up to encourage press coverage.

If releasing album, to send press release and press kits announcing record release party and information about record to targeted media list.

Write UNLIMITED press on your band published at TMD's official site,
with heavy bulletin marketing via TMD's sites on MySpace, Twitter, Facebook and ReverbNation!

Give feedback on publicity photo and connect with photographer if necessary.

You also get a quarterly report that details all of the placements, and you will also be provided online links to coverage or hard copies of articles that have been published.



*Program Pricing :

1 month for $1,000

3 months for $2,250

6 months for $3,750

1 year for $5,000


*Special pricing expires as of December 31st, 2013

SUBMIT YOUR BAND FOR CONSIDERATION TODAY TO:
(themetalden@gmail.com)




When Doro celebrates her big anniversaries, she will traditionally welcome several heroes of the rock and metal scene, and this will also be the case for her 30 year stage anniversary. Doro will be playing two shows on May 2nd and May 3rd, 2014 at CCD-Stadthalle, where her fans can look forward to seeing many superstars.

Hansi Kürsch of Blind Guardian has already confirmed his appearance. As of today it is also confirmed that Miland "Mille" Petrozza of Kreator and Udo Dirkschneider, the former Accept shouter, will come to Düsseldorf to celebrate Doro's anniversary together with her.

Udo comments: "Of course! For Doro I will always be up front. Actually I was planning on being part of her show in Wacken this summer, but I could not make that date."

"I have the most awesome friends and colleagues," Doro bursts out about the Teutonic trio. You can see her live on these dates:

14.12.2013 GER Karlsruhe Knock Out Festival
15.12.2013 SWI Pratteln Z7
16.12.2013 GER Nürnberg Hirsch
17.12.2013 GER Saarbrücken Garage
19.12.2013 GER Hannover Capitol
20.12.2013 GER Leipzig Haus Auensee
21.12.2013 GER Magdeburg Factory

02.05.2014 GER Düsseldorf 30th anniversary show
03.05.2014 GER Düsseldorf 30th anniversary show

13.05.2014 GER Speyer Halle 101
15.05.2014 AUT Wörgl Komma
16.05.2014 GER Regensburg Airport
17.05.2014 GER Memmingen Kaminwerk
19.05.2014 GBR London O2 Islington Academy
21.05.2014 FRA Paris Le Trabendo
22.05.2014 FRA Montauban Rio Grande
24.05.2014 ESP Madrid Shoko
25.05.2014 ESP Barcelona Razzmatazz 2
30.05.2014 GER Geiselwind Out & Loud Festival
01.06.2014 TCH Plzen Metalfest
19.07.2014 GER Fritzlar Rock am Stück
09.08.2014 SWE Gävle Get Away Festival
29.08.2014 GER Wörrstadt Neuborn Open Air
30.08.2014 GER Schleswig Baltic Open Air




Read Rocket's acclaimed 2013 interview with Doro HERE.




Source: Metalunderground

https://www.facebook.com/DoroOfficial



MACHINE HEAD's writing process for their new album has taken longer than expected, forcing the outfit to push back their recording plans. The band were originally scheduled to enter Green Day's own Jingletown Recording Studios to begin tracking the effort on October 30th. That didn't happen though as the band are now due in the studio in February to begin tracking the effort for a release on Nuclear Blast Entertainment.

Band frontman/guitarist Robb Flynn explained:

"As you may have noticed there aren't any, "hey, were in the recording studio" updates happening. That's because were not!

A few Journals ago I said we'd hit the studio at end of October, and while we tried our damnedest to make that deadline, the fact is, we weren't ready.

We started writing in January of this year but between the bassist auditions, teaching Jared all the old tunes, rehearsing for headline dates, doing Mayhem, getting Jared up to speed on the new tunes, and back into writing mode in September, we just didn't have the songs yet. We probably only wrote music for 4 out of those 9 months, if we went in, it would have been rushed.

This is an important record for us. With a new label, a new member, and this being the follow up to "Locust" all eyes are on us. This record cannot be rushed or hurried, it needs to be great. It needs to be classic Machine Head. It needs to be a timeless album.

Our new label, Nuclear Blast agreed and said "hey, if it comes out in April or August, who cares? In 5 years, they're only going to remember if it's great or not."

It was refreshing and we were grateful that's how they felt.

We are now going in the studio the first week of February, 2014.

We already have 5 or 6 song demoed, some are in more finished stages than others, so we'll continue demoing through the New Year. Shit, who am I kidding? We'll probably be demoing up until the day before we hit the studio, LOL!

Thanks for the patience my friends"

Source: The PRP




Southern California metal act THROWDOWN will unleash "Intolerance" on January 21, 2014. The new LP will be their first since "Deathless" was released back in 2009. Frontman Dave Peters weighs in on the announcement:

"Completing this record felt great in so many respects, most important of which was the opportunity to finally give longtime supporters of the band this music that I've had swirling around in my head over the past four years.

The variety of people from different places and scenes, who have found the band through vastly different avenues over the past 15 or so years, will each get into it for their own unique reasons I think.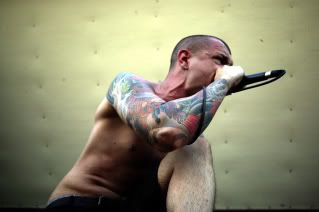 And for those who think it's junk, it's only about 28 minutes they have to regret."
"Intolerance" combines the massive production punch of the moody, sludgy and powerfully diverse masterpiece "Deathless" (which spawned the Sirius XM staples "This Continuum" and "The Scythe") with the focused resolve of the band's genre-classic-filled back catalog.
The big sound that developed on "Deathless" works magic upon the brutal missives found all over "Intolerance," nearly all of which clock in around 2 minutes. "Deathless" and "Vendetta" collaborator Zeuss (Hatebreed, Crowbar, Demon Hunter) returned to mix the new record.
The new album was recorded at Hurley Recordings in Costa Mesa, California with rising producer Davey Warsop and mixed at Planet Z. "Intolerance" features guitar solo contributions from Dave Nassie (Bleeding Through, No Use For A Name, Infectious Grooves), who joined Throwdown's recent touring lineup alongside Demon Hunter drummer Tim 'Yogi' Watts and "Deathless" era bassist Mark Mitchell.
1. Fight Or Die
2. Borrowed Time
3. Avow
4. Hardened By Consequence
5. Defend with Violence
6. Suffer, Conquer.
7. Cut Away
8. Intolerance
9. Without Weakness
10. Born and Buried Alone
11. Condemned to Live

Source: The Gauntlet

https://www.facebook.com/throwdownOC


"Kluskap O'Kom", the new video from Canadian progressive metal pioneers VOIVOD, can be seen online. The clip, which originally premiered at Philip H. Anselmo's Housecore Horror Film Festival in October in Austin, Texas, was directed by Syl Disjonk, who is best known for his short horror film "Ethereal Chrysalis". The director of photography was JP Bernier (DESPISED ICON). Watch it HERE.

Asked about the meaning of "Kluskap O'Kom", VOIVOD vocalist Denis "Snake " Bélanger said: "Sometimes described as a giant coming out of the woods, sometimes a monster in a lake or sometimes a powerful being that came from the sky, Kluskap is the name for this strange character and O'Kom is the place where he lives.

"Kluskap is inspired by a legend from a Canadian native tribe called the Micmacs. He once came to earth to kill all the Dinosaurs in order to help the humans to take over the planet.
"One day Kluskap will come back with another mission to the humans.

"There are many similarities between the Kluskap story and other legends from tribes all around the globe; stories told of encounters with beings from other worlds. This one is very unique, I thought.

"So here it is; Hear the thunder, it is me, coming back!!!! 'KlusKap O'Kom'!"

VOIVOD also released a seven-inch single for the song, featuring artwork from the band's drummer, Michael "Away" Langevin, and limited to 1000 copies worldwide. The b-side features a live version of "Kluskap O'Kom" recorded in Berlin on the band's last European headlining tour. The single comes in black, grey and black and white swirl colored vinyl and can be purchased HERE.

Source: Blabbermouth

https://www.facebook.com/Voivod


Hoping to lurch you into a full-blown, noise-strewn, holiday sound orgy, today Chicago blackened doom deviants, INDIAN, offer up a taste of their soon-to-be detonated From All Purity full-length. Recorded at Electrical Audio and Soma Studios in Chicago with engineer/co-producer Sanford Parker (Minsk, Nachtmystium, Yob, Samothrace), From All Purity places the band's notorious audio belligerence in an entirely new dimension with six ear-spearing tracks of harsh, psychologically acerbic hymns of hatred, disease and despair. From All Purity is the true antithesis of easy listening.

Feel the punishment that is "Rhetoric Of No" via YouTube at THIS LOCATION.

Forged in 2003, the band's debut EP, God Slave, was a self-released mission statement, welcoming INDIAN into the world like young, kicking, screaming giants. INDIAN's first three full-lengths – The Unquiet Sky, Slights And Abuse, and The Sycophant, respectively – were all issued through Portland, Oregon-based metal imprint Seventh Rule Recordings. Each of these releases found the band gaining momentum and attracting followers, as well as performing shows with scene heavyweights such as Wolves in the Throne Room, Locrian, and Agalloch.

After signing to Relapse Records in 2010, INDIAN began to diligently craft their fourth full-length, knowing all eyes were on them. Not only did the band live up to fans' lofty expectations, they also achieved a massive critical breakthrough. Guiltless was released in 2011 to rave reviews. The Chicagoist described the album as, "a musical journey into the mouth of teeth-rattling metal madness," while Metal Hammer simply called it, "pretty much an essential album." Fans were also impressed, gathering to soak up the band's feverish rays of doom on tour across the country. INDIAN performed shows with High on Fire, Batillus, and Yob, translating their recorded sounds into a murky, devilish live spectacle. Such performances confirmed INDIAN as one of the most exciting metal acts making music today, recalling an era in which the genre felt truly new, bursting with energy and untapped potential.

From All Purity will see its official release via Relapse Records on CD/LP/digital in North America on January 21st, 2014, Germany/Benelux/Finland on January 17th, and in the UK/World on January 20th.

Preorder your copy of From All Purity via Relapse HERE.

https://www.facebook.com/IndianDoom