French extreme metal unit FORSAKEN WORLD have unveiled the official video-teaser for their upcoming album entitled "Fragments". Watch HERE.

The album has been recorded & mixed at The Quiet Place Studio by Stelio "Dyp" Pagani and mastered at Endarker Studio by Magnus "Devo" Andersson.

European Release Date: November 10th 2014
Worldwide Release: November 10th 2014

Stay tuned for the next news about Forsaken World!

Source: Metal Rules

http://www.artgatesrecords.com

https://www.facebook.com/ForsakenWorld.Music


As winter begins to rear its icy head in the Northern Hemisphere, the mythologically-inspired, blackened-doom quartet hailing from Bloomington, Indiana known as THORR-AXE have announced the arrival of their sophomore album, Gates Of Winter: January 13, 2015.

"Cold, frosty doom" act Thorr-Axe is a raiding party comprised of four guys with a mutual love of heavy music who belch forth tales of dragons, wizards, frost giants, and vikings putting axes through people's skulls. A party of the blackest kind, which the Sleeping Shaman once referred to as "a crushing rifforama that boldly sets all axes to bludgeon-mode," and every metal head with a black heart and a wry smile is invited.

Track Listing:

1. Open The Gates
2. The Seer's Vision
3. Four Hooves
4. Mountain Crusher
5. The Forging Ritual

CD preorders of Gates Of Winter are available now at THIS LOCATION.

Praise for Thorr-Axe's 2011 debut album, Wall Of Spears:

"Put simply, this 9-song showcase is a feast of continent-sized riffs. Imagine The Sword taking on Amon Amarth for a late night Dungeons and Dragons battle with Matt Pike on hand to drink beer and advise The Sword on its strategy and you're pretty much there."
– Pete Green, The Sleeping Shaman

"Wall Of Spears invokes a raging world of wizards and warriors, hell-breathing dragons and a nice cold beer or 50 to celebrate the smashing of the enemy's skull under the double-edged blade. This is the kind of record that sneaks up on unsuspecting souls before unleashing a Viking hammer between the eyes."
– Nate Vaught, Forbidden Magazine

Thorr-Axe is:

Tucker Thomasson: Guitar/ Vocals
Mitchell McKinney: Guitar
Garrett Daniels: Bass
Jacob Lett: Drums/ Vocals

https://www.facebook.com/thorraxedoom


ShipRocked will sail roundtrip between the Port Of Miami and Great Stirrup Cay in the Bahamas from February 2-6, 2015 onboard the Norwegian Pearl.

The sixth ShipRocked will feature heavy metal all-star band Metal Allegiance and newly-announced acts BLACK LABEL SOCIETY, Buckcherry, P.O.D., Sevendust, Tremonti, Living Colour, Lacuna Coil, Nonpoint, Otherwise, Zach Myers of Shinedown with J.R. Moore & Zack Mack, Crobot, Thousand Foot Krutch.

For the first time, ShipRocked guests are invited to start their vacation early with the ShipRocked Super Sail Away Pre-Party on February 1, 2015. The Pre-Party will feature Chevelle's only ShipRocked performance, as well as sets from Sevendust and Wilson.




For the Super Sail Away, cruise guests will avoid boarding lines by checking into their cabins during the day on February 1. The cost is about the same as a hotel room, food is included, the Super Bowl will be shown on big screens, bands will perform, and guests can check out the bars, get pampered in the spa, and gamble at the casino (while at sea).

For the Pre-Party, the Norwegian Pearl will set sail in the evening on February 1 and will return to pick up additional ShipRocked guests the next morning. Those already onboard will have the luxury of sleeping in while others are boarding. Cabins for ShipRocked 2015 are on sale now at ShipRocked.com.
Metal Allegiance–featuring singers Philip Anselmo (Down, ex-Pantera) and Joey Belladonna (Anthrax), guitarists Chris Broderick (Megadeth), Scott Ian (Anthrax), and Gary Holt (Slayer/Exodus), bassists Frank Bello (Anthrax) and David Ellefson (Megadeth), and drummers Charlie Benante (Anthrax) and Mike Portnoy (The Winery Dogs, ex-Dream Theater)–will put their spin on a scorching set of heavy metal's most influential and recognizable songs.
"It'll be a blast to rejoin my fellow badass Metal Allegiance compatriots on ShipRocked 2015," says Philip H. Anselmo of Metal Allegiance. "Expect more blasts from the past, plus some killer musicians amongst the awesome atmosphere of jamming on the water! Come out and jam with us!"
Mike Portnoy of Metal Allegiance explains, "After the recent debut of Metal Allegiance, we couldn't wait to get back together and throw down again! We're fans just like everybody on the other side of the stage watching us. We all love this music and Metal Allegiance gives us a chance to hang, jam and have fun with this unique brotherhood of metal."

"ShipRocked is about great live music, and it's about the fans. The way that crowds have responded to Limp Bizkit's return to the stage – and the way the band has embraced its fans during those performances – truly epitomizes that spirit. And Metal Allegiance is a band of world class musicians, heavy metal legends in their own right, performing not just for the fans, but AS fans of the great hard rock and metal tradition that's helped to shape so many of the bands that we have on board this year," says event producer Alan Koenig of ASK4 Entertainment.
Each ShipRocked is a once-in-a-lifetime experience that provides guests with the opportunity to vacation with their favorite bands, meet new friends, and reunite with old friends year after year. On any given day, guests might find themselves dining, drinking, rocking out, swimming, working out, or gambling alongside their favorite rock stars. The full-ship charter provides a one-of-a-kind experience for guests to have the time of their lives with thousands of like-minded friends.
Guests will spend two full days enjoying concerts and activities on a private beach on Great Stirrup Cay in the Bahamas (http://www.ncl.com/freestyle-cruise/great-stirrup-cay). The island features a large performance area on the beach with full production for rock shows and offers various island excursions such as parasailing, snorkeling, canoeing and more.
ShipRocked guests will enjoy multiple performances from every band on different stages throughout the ship, artist meet and greets, Q&A sessions, along with artist-hosted activities including contests, game shows, insane parties, theme nights and more.

Source: BW&BK

http://www.shiprocked.com


Denver, Colorado metal band SPEEDWOLF has announced the departure of drummer Richie Tice and the group is now in search of a replacement. Here's the official word:

"We're sorry to say that our long time friend and drummer, Richie Tice, will no longer be playing with the band. This has been a mutual agreement between the four of us due to commitment issues and other personal differences. For the past 6 years we've formed our sound with the same members that we started with; something a lot of bands don't do. Ultimately we're sad to see that one of the best drummers we know won't be with us down the road.

"Effective immediately, we are seeking any and all submissions for a replacement drummer. We are interested in anyone who is willing to commit to consistent writing, recording, touring, rehearsal, and the overall hard work it takes to sustain what we've accomplished so far. Therefore, please refrain from sending us submissions for short term 'fill-in' spots, etc. We want someone to be 100% a part of the band.

"And to all the people that have supported us so far, we'd like to apologize. We're way overdue for a second album, another tour, and more time on stage completely. We promise that in the next 6 months, expect to hear all new tracks and see us in towns that we haven't played in years. Thanks again for all your support! FOR SERIOUS DRUM INQUIRIES EMAIL HERE: ddcbitch@yahoo.com. Also, if anyone is interested in contacting Richie please feel free to email him here: ticedrummer0314@gmail.com"

Source: Lambgoat

https://www.facebook.com/speedwolf303


Napalm Records has announced the signing of SKINDRED to a new worldwide record deal.

Celebrating the signing of Skindred, Napalm Records Vice President Thomas Caser said: "Working with Skindred is a dream come true for me and all of us at Napalm Records. Skindred entered the Top 40 in the UK on their most recent album 'Kill the Power' and we believe we can build on this success not only in the UK but also in Germany, the US and the Rest of the World!"

Skindred's manager, Seven Webster from 7PM Management, added: "We have been talking to Napalm Records for a long time and we all believe that Skindred now needs to be with a designated Rock label that understands the genre and the band and that shares our passion and belief in the band on every level and wants to work with us on further building and breaking the band globally and taking them to the next level in what we all see as the next part of a long campaign. We could not be happier with this deal!"

Skindred has also confirmed that Dan Sturgess, after joining the band's live set up for the last few years as DJ/sampler and backing singer, has now joined the band properly as a full-time member and will also be involved in the writing of the band's forthcoming album (due out in 2015 via Napalm Records).

Catch the band live on these dates:

Fri 6th March Longsight, O2 Apollo
Sat 7th March Longsight, O2 Apollo
Mon 9th March Glasgow, O2 Academy
Tue 10th March Newcastle, O2 Academy
Thurs 12th March Wolverhampton, Civic Hall
Fri 13th March Leicester, O2 Academy
Sat 14th March London, SSE Arena Wembley

Source: metalunderground

https://www.facebook.com/skindredofficial


"Taking Metal Bands To The NEXT LEVEL!"

This basically involves writing and sending out press releases on behalf of your band to your fans and to media types such as music editors, record labels, radio programmers and concert promoters.




A good music publicist is not cheap. You can expect to pay anywhere from $2,000 to $4,000 per month or more for an "experienced" music publicist… and most of them have campaigns starting at a four-month minimum.

Often it is your band manager who deals with the publicist on a day to day basis.
Hiring a good publicist can help you get to the next level… even before you have landed a manager.




Randy "Rocket" Cody of The Metal Den has contacts at a national & worldwide level and can reach out to them with ease about the artists he represents. He is one of the most widely known and respected heavy metal journalists working today.





So what should you expect from a music publicist once you hire them? You should expect someone who is extremely professional, friendly, a skilled writer, and someone who has a wealth of contacts and a track record for landing media coverage.

"Rocket" will do the following for your band:

Write or edit bio with distinct story representative of the client.

Target all heavy metal media, including: radio, weeklies, dailies, blogs, ezines, freelancers, video and television outlets.

Solicit metal media for show previews, reviews, interviews and airplay.

Target personal contacts throughout worldwide metal media.
Send press releases and kits to media and will continue to follow-up to encourage press coverage.

If releasing album, to send press release and press kits announcing record release party and information about record to targeted media list.

Write UNLIMITED press on your band published at TMD's official site,
with heavy bulletin marketing via TMD's sites on MySpace, Twitter, Facebook and ReverbNation!

Give feedback on publicity photo and connect with photographer if necessary.

You also get a monthly report that details all of the placements, and you will also be provided online links to coverage or hard copies of articles that have been published.
*INTRO SPECIAL:
1 week for $200

1 month for $1,000

3 months for $2,500

6 months for $4,200

1 year for $6,600


*Special pricing expires as of October 31st, 2014

SUBMIT YOUR BAND FOR CONSIDERATION TODAY TO:
themetalden@gmail.com




Bonzo Bash, Randy Rhoads Remembered, Enwistle/Moon Merge – California Music Fest Created To Coincide With NAMM 2015

Tichy/Sutton Productions Presents:

California Music Fest! 3 Days of Music & Madness!

After 5 years dedicated to respectfully presenting unique events that celebrate the world's most iconic musicians, it's all coming together for one 3 day weekend!

California Music Fest! 3 Days of Music & Madness!
January 22nd, 23rd, 24th 2015 at The Observatory in Santa Ana, CA

Jan. 22, 2015: Bonzo Bash
Jan. 23, 2015: Randy Rhoads Remembered
Jan. 24, 2015: Entwistle / Moon: The Ox & The Loon

In 2010, drummer Brian Tichy, who has played for Whitesnake, Foreigner, Ozzy Osbourne, Billy Idol, and many more, came up with the idea of Bonzo Bash, the ultimate celebration show to the ultimate drummer, John Henry Bonham of Led Zeppelin. Tichy partnered up with promoter Joe Sutton to make this idea a reality on September 25th, the 30th anniversary of the passing of John Bonham. This event saw the whole Bonham family in attendance! Since then, Tichy and Sutton have done a total of 10 Bonzo Bashes from Los Angeles and Anaheim and all the way to New Jersey and New York. This show features the world's best drummers playing their favorite Led Zeppelin song on a Bonzo replica kit with house band, The Moby Dicks.

In 2013, after many hours of brainstorming over the years, they also created Randy Rhoads Remembered; the celebration show for guitar legend Randy Rhoads. The guitarist revitalized Ozzy Osbourne in 1980 but his life tragically ended in a plane crash March 19, 1982 at the age of 25. With Tichy and Sutton both being huge fans of Rhoads', and Tichy being one of the few drummers to play these classic songs with Ozzy Osbourne himself, it became obvious that this was the next exciting idea to pursue.

Along with Tichy on drums, "RRR" featured Rhoads' Ozzy Osbourne and Quiet Riot bandmate, bass legend Rudy Sarzo as part of the house band, "The Madmen." Randy's brother Kelle Rhoads, and sister, Kathy Rhoads D'Argenzio, also partake with stories and performances. Every song from Rhoads' two LP's with Ozzy Osbourne are played by some of the greatest guitarists in the world.

Both Bonzo Bash and "RRR" were held at the Observatory in Santa Ana this past January to capacity crowds and received stellar reviews. Then in June of 2014, they took RRR to New Jersey, "Rhoads" Island, Connecticut, and Pennsylvania for 5 more shows.

In April of this year, Tichy & Sutton went for one other idea never done before. They put together a night in Hollywood at the House Of Blues in celebration of rock's mightiest rhythm section ever; John Entwistle and Keith Moon.

Entwistle / Moon: The Ox & The Loon features some of the most renowned bassists and drummers to ever come together in honor of their rhythm section heroes! This show completed the idea of having a trilogy of unique events that pay respect to deserving icons of rock, as well as bringing together passionate camaraderie when this many great musicians get together for a common love. Not to mention, the fun had by all involved is unparalleled!

With these 3 events established, now is born California Music Fest! 3 straight days of music and madness! These shows will coincide with the 2015 NAMM show.

Players to all events will be announced soon!

The following is a list of all the world class artists who have graced the Bonzo Bash, RRR and Entwistle / Moon stages:

Previous Legend Award Recipients:
Carmine Appice (Vanilla Fudge/ Rod Stewart), Peter Criss (KISS), Bill Ward (Black Sabbath), Lemmy Kilmister (Motorhead), Kenny Aronoff (John Mellencamp / John Fogerty), Corky Laing (Mountain)

Previous hosts have included:
Drum Legend Carmine Appice (Vanilla Fudge / Rod Stewart / Ozzy Osbourne), Legendary KLOS DJ Uncle Joe Benson, Nicko McBrain (Iron Maiden), Joe Sutton, Eddie Trunk (That Metal Show / Authority Of Rock),
Phil X (Bon Jovi / The Drills), Mike Portnoy (The Winery Dogs / Dream Theater),
Brian Tichy

Tickets available now!

California Music Fest Three Day Pass:
http://www.ticketweb.com/t3/sale/SaleEventDetail?dispatch=loadSelectionData&eventId=5420745&pl=observatory

Individual Show Tickets:

Bonzo Bash: 1.22.2015 www.ticketweb.com/t3/sale/SaleEventDetail?dispatch=loadSelectionData&eventId=5420725&pl=observatory

Randy Rhoads Remembered: 1.23.2015
www.ticketweb.com/t3/sale/SaleEventDetail?dispatch=loadSelectionData&eventId=5420625&pl=observatory

Entwistle / Moon: The Ox & The Loon: 1.24.2015
www.ticketweb.com/t3/sale/SaleEventDetail?dispatch=loadSelectionData&eventId=5420715&pl=observatory

VIP packages available at Californiamusicfest.com


METALLICA will perform at BlizzCon 2014 next month, Blizzard Entertainment announced today. The band will perform the Saturday evening concert, taking place November 8th.

"We're thrilled to announce that Metallica will be performing the closing concert at BlizzCon 2014, playing before a sold-out convention crowd on the night of November 8th! If you didn't score tickets to the show, don't worry – you can still get a front-row seat from home with the BlizzCon Virtual Ticket."

BlizzCon is a gaming convention like no other. With developer panels, exclusive interviews, intense eSports tournaments, the legendary Friday night contests, and what's sure to be an unforgettable concert from Metallica to close out the show on Saturday, this year's event is one you won't want to miss.

The BlizzCon Virtual Ticket lets you catch all of the action online, live and in high definition. You'll also get access to this year's epic collection of in-game goodies for World of Warcraft, StarCraft II, Diablo III: Reaper of Souls, Hearthstone, and Heroes of the Storm.

"We're thrilled to have Metallica blowing out our speakers at BlizzCon this year," said Mike Morhaime, CEO and cofounder of Blizzard Entertainment. "After two full days of epic gaming and intense eSports action, an earth-shaking concert is the perfect sendoff for everyone at the show and watching from home."

BlizzCon is a celebration of the global player communities surrounding Blizzard Entertainment's Warcraft, Diablo, and StarCraft game universes. Taking place November 7th and 8th at the Anaheim Convention Center, this year's show will feature a wide array of activities, including discussion panels, tournaments, contests, hands-on play time with the latest Blizzard Entertainment games, and more.

Tickets to the convention are sold out, but viewers at home can join the excitement by ordering the BlizzCon Virtual Ticket ($39.99 USD), which offers comprehensive live online coverage of both days of the event – including the community contests hosted by Chris Hardwick on Friday evening and Metallica's performance on Saturday night.

In addition to the BlizzCon Virtual Ticket, DIRECTV customers in the United States have the option to watch the show from home by ordering the BlizzCon 2014 Pay Per View event, priced at $39.99 USD (includes access to the Virtual Ticket online stream). Visit www.directv.com/blizzcon for more details.

As BlizzCon draws closer, further details about the show will be announced at BlizzCon.com.

Source: BW&BK

http://www.metallica.com


Den Headz, today is the official unveiling of "Come The Flood," the new hymn from Dublin metal troupe, PRIMORDIAL. The stirring tune appears as the third track on the band's long-anticipated Where Greater Men Have Fallen full-length, set for release via Metal Blade Records this November.

Praised by Pitchfork for their fastidiously composed "folk and black metal-inflected classic metal that spirals and extends and, somehow, keeps getting bigger," Where Greater Men Have Fallen serves as the follow-up to PRIMORDIAL's globally adored, 2011-released Redemption At The Puritan's Handlong player and their eighth studio offering overall. An eight track, fifty-eight minute magnum opus, Where Greater Men Have Fallen was recorded at Grouse Lodge in Dublin with Jaime Gomez (Cathedral, Angelwitch, Grave Miasma) and delivers some of the band's deepest, most methodically arranged, thematically profound and plainly gripping compositions of their winding catalog of sonic enormity.

Gushes Stereogum of "Come The Flood," "Frontman Alan Averill (aka A.A. Nemtheanga) is a firebrand, channeling a mythic vision of humanity's pain through a personal lens of frustration, resulting in a swaggering, staggering bellow that would sound absurd out of context, but instead comes off absurdly powerful. It's pure theater, but closer to Macbeth than anything else. 'Come The Flood' is the second single off Where Greater Men Have Fallen, following the crushing title track, which came out a couple weeks back. "Come The Flood" takes a different tack, lacing jangling minor-key guitars and spoken word throughout its seven-minute runtime before exploding in the second half, embodying the biblical fire and cathartic rain it describes with sonic force. Like the first single, the results are beyond what we've come to expect from … anything, really."

Experience the epic "Come The Flood" HERE.

Where Greater Men Have Fallen will be released on November 25th, 2014 via Metal Blade Records. Visit http://www.metalblade.com/primordial where you'll find a lyric video for the title track as well as a gaggle of preorder options. The record will come available on CD and on vinyl in various color variants.
Additionally, Where Greater Men Have Fallen will be released in a limited European deluxe edition wood boxset which includes a CD+DVD digibook, an exclusive 7″, a leather wristband, a poster and a certificate of authenticity.

PRIMORDIAL Live:

11/28/2014 The Academy – Dublin, IE@ Redemption Festival w/ Necros Christos, Dead Congregation, Malthusian
12/12/2014 Metal Meeting – Eindhoven, NL
1/24/2015 Magazin4 – Brussels, BE
2/19/2015 Blastfest 2015 – Bergen, NO
2/21/2015 Volta Club – Moscow, RU
4/05/2015 Dark Easter Metal Meeting – München, DE
6/13-14/2015 Metalhead Meeting 2015 – Bucharest, RO
7/17/2015 Bang Your Head – Balingen, DE

http://www.facebook.com/primordialofficial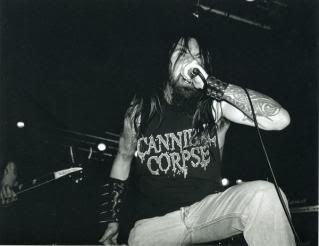 SKELETONWITCH's recent shows have been undertaken without their frontman Chance Garnette. The band have issued the following statement regarding that, revealing that they will finish out their immediate touring as a quartet:

"Lately there have been a lot of rumors, speculation, and assumptions, regarding Skeletonwitch. We want to set the record straight.

Unfortunately, Chance is unable to finish out the tour as he has some serious personal matters to attend to. We ask you to respect his and our privacy regarding these matters.

This obviously left us with a very difficult decision to make and we've decided to finish out the tour as a 4-piece.

We made the assumption that Skeletonwitch fans attending the shows would rather see 4 of us ripping through our songs, than a piece of paper on the door announcing our cancellation. If the first 2 shows were any indication, we assumed correctly.

You have our sincerest apologies for not being able to bring you the full show, and for canceling the stop in Albany.

We thank everyone for their understanding and their support now and in the future.
Please come out to the remaining shows for riffs, beers, and hi-fives with us. At the risk of sounding too sentimental, music is equally important, if not more so, during rough times as well as the good.
Skeletonwitch is not going anywhere. See you soon."

Source: The PRP

http://www.myspace.com/skeletonwitch