American heavy metal band FEAR FACTORY has confirmed an additional week of dates to the recently announced second leg of their American Fear Campaign tour. Set to begin May 14 in Tucson, initial weeks will feature FEAR FACTORY with Prong, Thy Will Be Done and Silent Civilian with the final week finding All That Remains replacing Prong for the northern run of dates. Continuing to tour in support of their latest release, Mechanize, the tour introduces the album's third single, the controversial album closer "Final Exit."

"Final Exit" is expected to follow the success of earlier metal radio singles "Powershifter" and "Fear Campaign." Already playing via three of AOL Radio's online music channels, the single is planned to impact on May 17. FEAR FACTORY have done two special edits of the 8:11 minute song with hopes to position the song for breakout play on the country's larger Active Rock stations. Vocalist Burton C. Bell recently commented, "Dino and I have created the edits to condense the song into a time specific for radio. We are very happy fans are loving the song for it is one that touches upon the importance of the freedom of choice and personal liberty that all human beings should be allowed. The song hopefully will create awareness for the support group Final Exit Network," the song's namesake. Passionately he continued, "the right to life extends beyond life itself. If the medical community cannot, and will not find a cure due to cost effectiveness, then humanity needs the choice of a dignified, self deliverance from continual, painful treatments from debilitating disease. We have been contacted by many fans who connect with this song on many levels, and with 'Final Exit' being played on the radio, we hope others will also become aware, understand, and enjoy this song."

FEAR FACTORY just completed eight dates supporting Metallica in Europe. The short tour followed the band's successful performance at Revolver Magazine's Golden God Awards in Los Angeles on April 8, scheduled for television broadcast via VH1 on May 22.

Complete dates for the upcoming tour are noted below and available at the band's official MySpace site.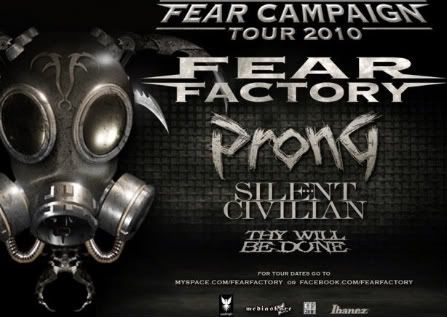 Tickets are available via all major ticket agencies and each venue's in-house box offices. Mechanize is available in stores now and via Candlelight's official webstore located at http://www.candlelightrecordsusa.com.

5/14/2010 Rialto Theatre – Tucson, AZ
5/15/2010 The Fox Theater (California Metal Fest) – Pomona, CA
5/16/2010 House of Blues – San Diego, CA
5/17/2010 Knitting Factory – Reno, NV
5/19/2010 Knitting Factory – Spokane, WA
5/20/2010 Knitting Factory – Boise, ID
5/21/2010 Club Sound @ In the Venue – Salt Lake City, UT
5/22/2010 Marquis Theatre – Denver, CO
5/24/2010 Pop's – Sauget, IL
5/26/2010 The Machine Shop – Flint, MI
5/27/2010 The Intersection – Grand Rapids, MI
5/28/2010 Headliner's Music Hall – Louisville, KY
5/29/2010 The Rave – Milwaukee, WI
5/30/2010 Al Rosa Villa – Columbus, OH
6/01/2010 The NorVa – Norfolk, VA
6/02/2010 Jester's Pub – Fayetteville, NC
6/03/2010 Jaxx – W. Springfield, VA
6/04/2010 The Palladium – Worcester, MA
6/05/2010 Webster Theater – Hartford, CT
6/06/2010 Trocadero – Philadelphia, PA
6/08/2010 Higher Ground – S. Burlington, VA
6/09/2010 Port City Music Hall – Portland, ME
6/10/2010 Starland Ballroom – Sayreville, NJ
6/11/2010 Northern Lights – Clifton Park, NY
6/12/2010 The Town Ballroom – Buffalo, NY
6/14/2010 Peabody's – Cleveland, OH

http://www.myspace.com/fearfactory