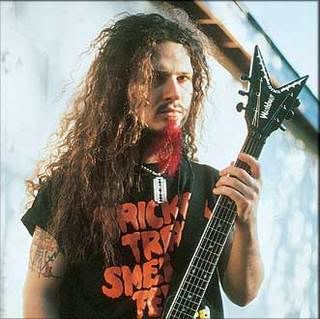 Just about a week away from the five year anniversary of Dimebag Darrell's tragic on stage murder, TMD has unearthed a rare interview with the late great PANTERA/DAMAGEPLAN guitarist that took place roughly 7 months prior to his death on May 7th, 2004. The discussion took place over the phone conducted by Great Falls Tribune reporter Patrick Douglas, while Dime and DAMAGEPLAN were on tour somewhere in Oregon. Here are a few excerpts:

On his relationship with his brother Vinnie Paul Abbott:

"A lot of brothers and sisters have an animosity and they're always trying to outdo each other. Suzie got straight A's and you're failing with D's, you know, it's a comparison kind of thing. It's a competition for a lot of brothers and sisters. For me and Vinnie we grew up together and at a really early age, that was our common bond is a fucking love for music. Our dad played music and he totally supported us. We both tried to play drums. Vinnie got better than me, so I got a guitar. It's the same Eddie Van Halen, Alex Van Halen story. That's how it all started and we both always strived for the same goal. We keep each other in check and everything. We really don't fight about shit man. We really don't fight about jack shit. We'll keep each other in check, but there aint no animosity towards each other or any kind of competition at all 'cause we're both going for the same goal. Fuck man, I talk to him everyday. If we don't go out every fucking night, we do everything together. He's the greatest person in my world, man."

On PANTERA's breakup and his relationship at the end with vocalist Phil Anselmo:

"It's not a musical thing really that is why that dude took off and left. It's not, dude, I can't even begin to put a finger on it. I know some shit that nobody fucking knows. Look dude, when you're a brother with somebody for 12 fucking years and you do everything in the fucking world together and you build this band from nothing to what it is and whatnot and then you just up and just don't want to be around those people all of a sudden. There's some weird reason floating around. It goes even further than egos or something like that. I can't even. I don't really want to get into it. This whole thing needs to come to rest period. It's not just a musical thing. It could be anything from fucking addictions to anything you can fucking dream up. Me and Vinnie have a fucking standard level. When somebody feels paranoid or something to be around somebody that knows. When you know one of your brothers are gonna tell you the straight truth and you don't wanna have to face it and you run from it. That's all I gotta say about it. You can build your own conclusion. There's nothing that Pantera was incompetent of doing musically, period. There's nothing that we can't do at all … or that we couldn't do, or that me and Vinnie couldn't do. So whatever.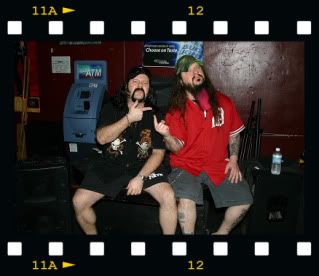 (Photo: Michelle LaRose/Phantom Photography)

Me and Vinnie were the heart and soul of Pantera. You watch the fucking home videos. You see who's driving the fucking thing, who's the fucking life of the fucking party and who's the hellraisers. Me and Vinnie never had a problem with any fucking band in this business. We don't care. If it's not our cup of tea, not our style of music, it doesn't matter. It doesn't mean those are uncool people. In his situation he sees that in a different way. He chooses to attack anything that he doesn't like and he chooses to try to degrade anything that's not his way and then once you agree and try to go his way with hit, then all of a sudden you're ripping him off. It's a no win situation. Yeah, it's a weight lifted off our shoulders. The cat used to never be that way. He's went through some definite changes through his life. I damn sure don't know who the dude is now. Even though I'd been with the dude for 12 years. So there you go, go figure. It's not the Phil I know from way back in the day."

Read the complete interview HERE.

http://www.pantera.com/