Today marks three and a half decades since the rock music world lost one of its greatest talents ever, Randy Rhoads, lead guitarist for OZZY OSBOURNE band. The six string virtuoso was killed along with the band's hairstylist and the pilot of the plane, after going for a joyride that buzzed Ozzy's tour bus a couple times for fun, while on an off day from touring in Leesburg, Florida. Randy was only 25 years old when his life came to an end. For fans who loved him, he has been gone now for what seems like an eternity. What made Randy so special, beyond his greatness in music, is that he was the most down to earth, easy going person you could ever meet according to his family & friends. He was and is to this very day beloved by millions of fans from all over the world. His students that he taught guitar lessons to said they always walked away feeling empowered, and despite his growing fame, Randy stayed humble and never let success go to his head.


"Someone like Randy Rhoads comes about every 200 years."- Kelle Rhoads (Randy's brother)




Canada's The Metal Voice recently spoke to Randy Rhoads' Brother and Sister, Kelle and Kathy Rhoads in regards to their brother's legacy, unreleased material, hobbies and personality. The siblings were interviewed live at The Hall of Heavy Metal History on January 18 2017 and accepted the award on behalf of their brother.




WATCH INTERVIEW HERE:

https://youtu.be/kEGoMGptndc

When asked if there were any un-released video material of Randy Rhoads:

KELLE: "Not that were aware of and according to Sharon Osbourne no. I have to tell you that probably somewhere down the line somebody's got something in their attic, that they filmed and they died so somebody else in their family probably has it. The same thing happened with classical composers, people found stuff that Mozart wrote 180 years after he wrote it, it was in somebody's attic. I got a question that has never been satisfactory answered. Ozzy is a front man, he started Heavy Metal as far as I'm concerned, Ozzy puts a brand new band together and nobody shoots any video of that initial European tour? It doesn't make any sense? So here is the answer to your question, not that I know of. Here is my personal opinion, there has got to be footage."

In 2007, THE METAL DEN covered Randy's 25th memorial with a tribute article in conjunction with BLACK LABEL SOCIETY band. Read it HERE.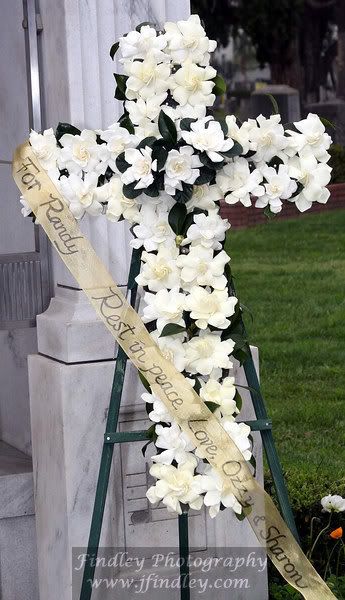 "On days off, we would be in the middle of Anytown, USA. When we would get to the hotel in the morning after travelling all night, Randy would open up the telephone book and look up the music schools. He would go and take classical guitar lessons. He would come with his books and ask questions about reading, fingering positions, pieces and stuff like that. He was coming along incredibly well. Of course, in alot of places he would go to the wrong school. He would have to face some young, 18 year-old girl teacher who would totally freak out when she found out who he was. Actually, many times he would end up giving them lessons, but he would pay for it!!!! {laughs} The more recognition he got, the better he wanted to get. He was an incredibly humble guy. Every time anybody would ask him for an autograph or tell him a compliment, he would smile real shy. That was his nature." — Rudy Sarzo

"I have an immense amount of respect for what he did. Some people say I may have had an influence on his playing, but I never was able to ask him that. If it's true, I'm very honored, because I thought he was very, very good. He was also very dedicated to his playing. I think that showed in his work." — Edward Van Halen

"I've heard him play on the radio, and he sounded very good. I admire anyone who can play the guitar with a style that is easily identifiable, and that's what he was able to do. Everyone says theres nothing new that can be done with a guitar, but when people like Randy come along, they realize they're wrong." — Angus Young AC/DC




http://www.randyrhoads.us/