The Metal Den on MySpace
Hits 100,000 Page Views!!!

Big thanks to ALL our global Den Headz for helping The Metal Den on MySpace reach 100,000 Page Views!!!
And let it be known, that it's simply rocking to get so many cool comments from all you metallers around the globe, from Tokyo to Italy to Sweden to Germany and back… Dimebag is looking down on us today and PROUDLY exclaiming: "Goddamn Electric!"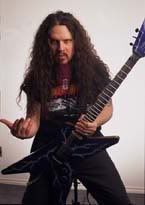 The Metal Den since its inception in early 2005 has been dedicated to the fallen Pantera great.
DIMEBAG DARRELL: Gone… but NEVER forgotten!
TMD throws down the coolest interviews, CD/DVD and show reviews of the top names in metal… AND the top unsigned metal acts in the heavy music scene today.
TMD's creator, Randy "Rocket" Cody, has quickly established himself in only the past 4 years as the most widely followed heavy metal journalist/promoter in the world!
You want the latest scoops on REAL underground metal, ONLY Rocket and TMD can give it to yah!
Again, thanks for helping TMD reach this rockin' milestone!!


We truly hope you enjoy your ongoing membership as a DEN HEAD, the fiercest, most loyal metal fans around!
Visit The Metal Den on MySpace: