ROCKET REVIEW: ANDRAKO "Mental Holokaust" (CD-EP)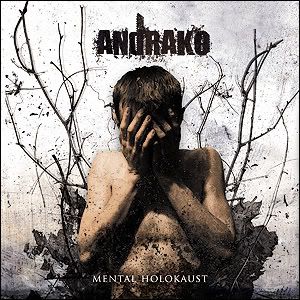 Andrako: "MENTAL HOLOKAUST"
0001:: ILL SOCIETY
0002:: PURGATORY SYMPHONY
0003:: MENTAL HOLOKAUST
0004:: DESTRUCTION ENGINE
Andrako's self-produced EP debut off Dieselhead Records is a definitive product of all the very best in heavy industrial trance-type music that has been created in the past by well known names such as Nine Inch Nails, Marilyn Manson and The Chemical Brothers. The first track 'Ill Society' even has a Ministry-vibe to it as the track launches into a steel-piston pumping landscape of chaos with Dennis Andrako Pacheco, the one man musical mastermind behind all of the production, clearly demonstrating a seemingly at ease connection with the tricked out, sonically programmed environment he has put himself in here.
The second track 'Purgatory Symphony' re-confirms this as we are met by a mid-tempo electronic groove sample with growling, liquid-infused vocals repeating over and over, "Why don't they hear?" And in my listener's mind, that's what makes this album such a critical success, for industrial artists solely define themselves by experimenting with varying degrees of noise, unique songwriting, flashy production techniques combined with controversial topics that forces the listener to think… maybe more so than in any other musical genre around. And Andrako has pretty much one-upped it all here with the cleverness to pursue a more substantially evil, forboding overall theme. The third song is the self-titled track 'Mental Holokaust' and is by far the most impressive, due to it's frightening, dark synth-tones and slow, down-spiraling guitar parts tied in with an alien-like piece that loops repeatdly at its end as if one has just found themselves brainwashed by some ritualistic-type of human takeover that has been in the back of the victim's minds all along.
The final offering in this collection is 'Destruction Engine' and perfectly takes off where the last track ended, almost as if you know you are in that horrifying Extraterrestrial life and perview of Earth, fighting for your very own mind and soul, with Pacheco's death-whisper of the lyrics "'Heading Into Oblivion" ending it all so poetically. Surely one will possibly interpret the content here differently as everyone does with music, but one thing is easy to see with Andrako's 'Mental Holokaust': the future of industrial/techno metal lurching out from the underground world looks very much alive.
Visit Andrako on MySpace:
http://www.myspace.com/andrako