Hailing from London, Ontario and co-managed by none other than Dave Mustaine, BAPTIZED IN BLOOD are about to set the metal world alight with their dizzying mix of shredding metal and straight up snarling Canadian attitude.

FOR A LIMITED TIME — get your FREE Mp3 of BAPTIZED IN BLOOD's scorching track "Last Line Lady." The free download will be available for the next forty eight hours at www.roadrunnerrecords.com.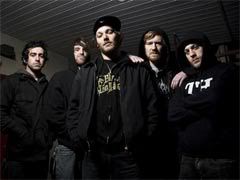 Roadrunner Records proudly announced the signing of London, Ontario based metal outfit, BAPTIZED IN BLOOD, adding to their already diverse roster that includes such heavyweights as Slipknot, Megadeth, Killswitch Engage, Stone Sour and Airbourne.

Baptized In Blood, a pack of rowdy 20 somethings hailing for London, ON Canada formed in the later months of 2004 and have since wreaked havoc on their ever-growing throng of loyal fans. Known for their punishing metal-meets-skate-punk influenced sound and their over-the-top live shows, this band is sure to stomp their way into your veins…and tear them apart.

Signed to Roadrunner Records by Joe Kresta – Director, A&R – Roadrunner Records Canada, who was quick to express his excitement, saying "From the moment I heard Baptized In Blood I was blown away. They continue to amaze me by constantly elevating their craft to new heights. With their jaw dropping live show, hard hitting sound, and captivating hooks, Baptized In Blood have all the ingredients for success."

Baptized In Blood lead vocalist, Johl Fendley comments: "We could not be more stoked! It's an honor to join forces with an incredible company, and become a part of a roster full of so many stellar bands, past and present, that we look up to, admire and love."

Baptized In Blood is comprised of Johl Fendley (Lead Vocals), Josh Torrance (Guitar/Backing Vocals), Nick Bertelsen (Guitar), Matthew Harris (Bass), Alex Johnston (Drums/Backing Vocals)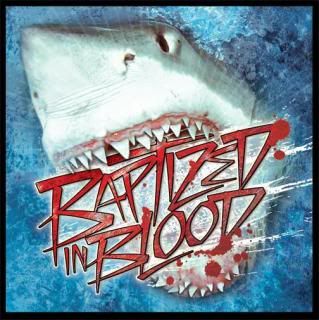 The band's Roadrunner debut will be released digitally on October 18.
http://www.myspace.com/baptizedinblood